Sand washing plant process
Sand washing plant process is applied for washing sand, reycling fines and reusing most part of muddy water used during the process. The sand washing process can be widely used in all kinds of sand and gravels, also can be used in mines to process all kinds of tailings. Especially for some arid sites.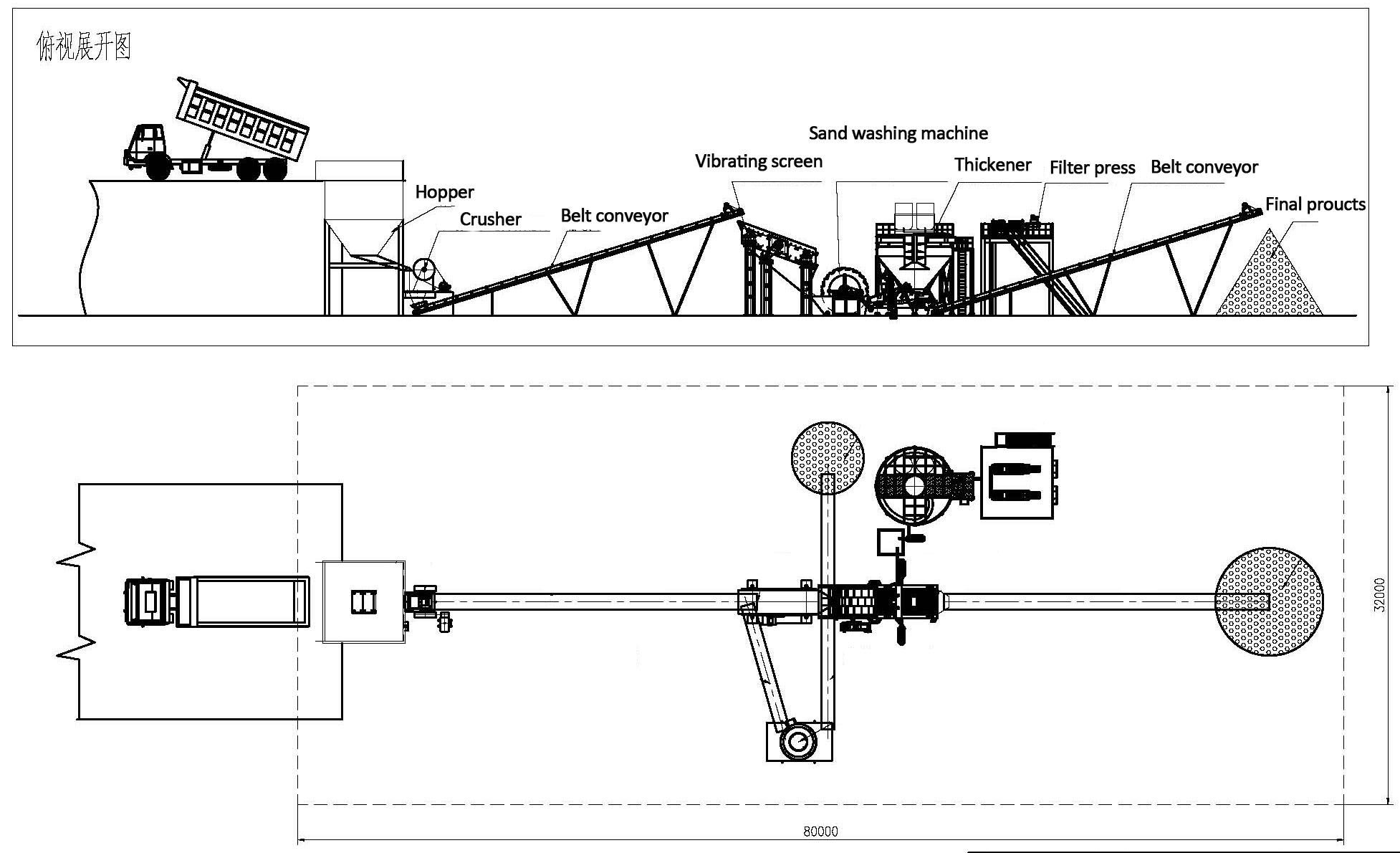 1. Sand and gravels fed into washing tank of sand washing machine with water by chute. Then is rubbed to washing to remove the impurities mixed into sand and gravels when impeller rotating. Then the washed sand is fed onto dewatering screen to dewater.
2. The overflow of washing machine be discharged into tail water collecting tank through pipe, then is driven into separator by slurry pump to be separated by hydrocyclone. After recycling, 0.074-3mm fine sand is discharged to dewatering screen and mixed into coarse sand uniformly to dehydrate.
3. At the same time, the sediment suspended content is under 5% processed by separator, discharged into tailing water tank, then is pumped into thickener for mud-water separation. The thickener treats about 80% of muddy water into clean water, then directly enters clear water pool through overflow port.
4. Concentrated mud is pumped into chamber press filter from the bottom of thickener, then be pressed  into mud cake and realized dry pile. These dry mud cake can as  landfill or develop other uses. After pressing process, clean water is discharged to clear water tank to realize the reuse of clean water and zero discharge of entire process.
5. Stones and sand are effectively screened, washed and dewatered in this plant, and muddy water can be recycled use. Lots of avantages of this entire production line has: excellent continuous working performance, convenient maintenance, long service life, easy movement and excellent effects. At the same time, it save resources, reduce water consumption, and ensures no pollution and meets environmental protection requirements.
1. Materials is thoroughly cleaned and dewatered
Water content of finished products is as low as 12%-15%.
0.074-3mm fines can be recycled by hydrocyclone.
2. Muddy water be purified by thickener and can be reused.
3. Solid waste dry discharge and dry piles.
LZZG as one of the professional sand washing plant manufacturers, has provided for all global market for sand washing, dewatering, fines recycling and muddy water purification technology for decades.