Sand washing machine in gravel production line
With the rapid development and progress of society, engeenring projects are becoming more and more, thus building materials become the keybone in this field, and the demand of gravel are becoming increased.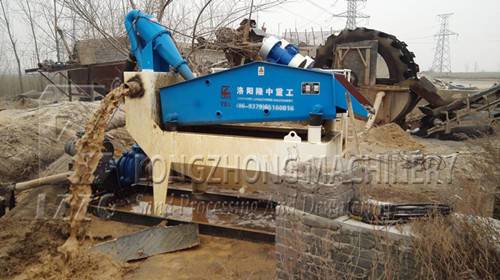 Sand washing machine is a washing equipment for artificial sand, it is widely ussed in the building materials, water conservancy and dehydration, ore induatry, transportation, concrete field and other materials.
For above those industries, sand washing machine is a high cleanness, reasonable structure, large treating process, low consumption and so on, it plays a vital role in the gravel production line, after the gravel has been acted on by the sand washer, its moisture content does not exceed 0.8%, and various specifications meet the needs of customers.
Since lzzg established, it has absorded advanced technology from experienced manufacturers, and worked with other companies from developed countries. Up til now, we have introduced first-class technolog at home and abroad, and has formed all kinds of gravel equipments, such as crushing production, gravel production line, impact sand-making production line, etc. What's more, gravel production line has widely used in many fields, so it is welcomed by the market.
Sand washing machine is a main product in our company, many clients show good feedbacks to us. We are confident that this machine in gravel production line, which it not only saves cost, but also receives considerate economic benefits.