Lzzg's comprehensive sand-making production line
Mechanical sand-making production line is also called sand-making production line, and it is based on pebbles, tailings, limestone and other materials. The process equipment for crushing to construction sand by one or more stages, according to the difference of ore material's features, the same as the configurated device of sand-making production.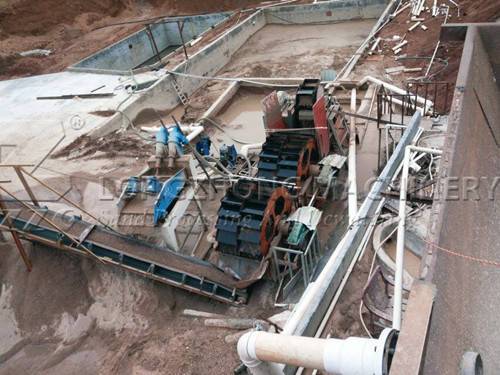 This production line is commonly consist of vibrator, jaw crusher, vibrating feeder, sand washing machine, belt transmission machine and so on.The comprehensive sand=making production line produced by our company provided customers with whole technological support. Com[ared with other manufacturers, our company has worked in this field for many years, and plays a leading position in China. What's more, it is in great demand in the market and a lot of customers are eagerly to know about it.
Sand-making production line is widely used for the application of water conservancy and hydropower, building materials, expressway, citizen construction and other industries. According to various requirements of technology, Lzzg will combine different moddel devices, and spare no effects to meet customers'needs.
There is a real case about this production line. A cusotmer from Vietnam, he is our regular customer, he usually buys sand washing machine from us, for he believes that our product can meet his demand to a large extent. One day, he told us that he wanted a whole sand-making production line so that can reduce fine sand loss, so he contacted us. Well, we have launched this production line in the market and received many feedbacks from customers, so we adviced him to consider it. He watched it carefully and decided to purchase. After operating for a long time, he gave us a good feedback.
This comprehensive sand-making production line with a charactertistics of high quality fine sand, considerate economic benefits, environment friendly and so on. If you have any interested in this production line, contact us!