LZZG Passed The 2023 Quality Management System Certification
Recently, Longzhong Heavy Industry successfully passed the ISO9001 quality management system, ISO14001 environmental management system, and ISO45001 occupational health and safety management system certifications and obtained the certificates. Longzhong Heavy Industry will take this opportunity to further promote the management and operation of the "three systems" to make quality, environment, and occupational health and safety management more standardized and professional. Continuously improve and enhance the comprehensive management level to provide strong support for the company to move towards higher goals.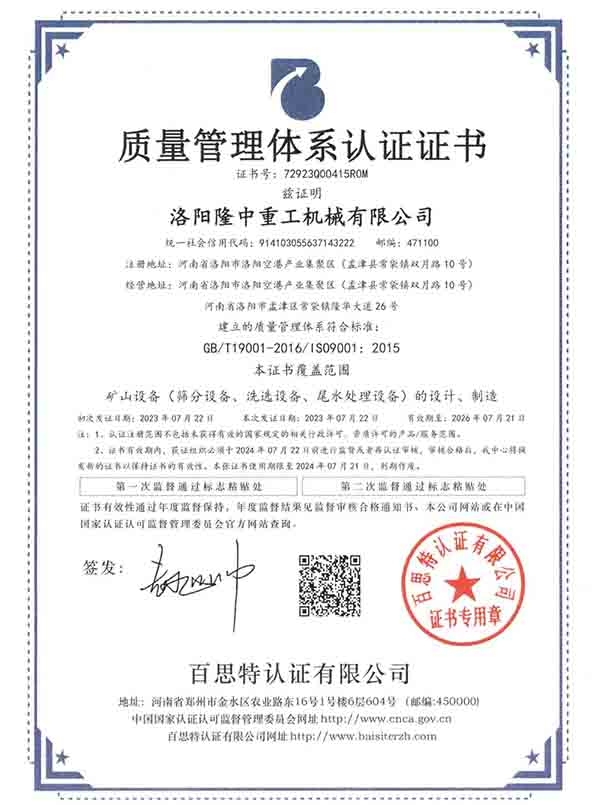 The successful passing of the quality management system audit means that the company has a more scientific and standardized management system guarantee in strengthening internal standardized management, enhancing service awareness, and improving product quality. At the same time, it enhances the company's competitiveness and brand image, laying a solid foundation for the company's high-tech and high-quality development.
Environmental management system certification further proves our company's environmental protection of the production environment and product quality. It also provides a stronger guarantee for subsequent market promotion.
The certification of the occupational health and safety management system marks that our company's modern management model has begun to take shape. It ensures that there are fewer or even no accidents and occupational diseases in the production process, pursuing the goal of "zero accidents" and maintaining a responsible image and responsibility for employees.
The passing of the "ISO Three Systems" certification is an affirmation of the company's existing management system, marking the company's new level of refinement, institutionalization and standardized management. At the same time, it has enhanced the company's competitiveness in the market, and laid a good foundation for further improving service quality and establishing a brand image.