LZZG dewatering screen performance
Dewatering screen is a vibration equipment that with dehydration, secondary washing, and screening functions. It is widely used in industrial sectors such as quarry plant, coal preparation, mineral processing, electric power, etc for dry and wet classification, dehydration, desliming and de-intermediation of medium and fine particulate materials.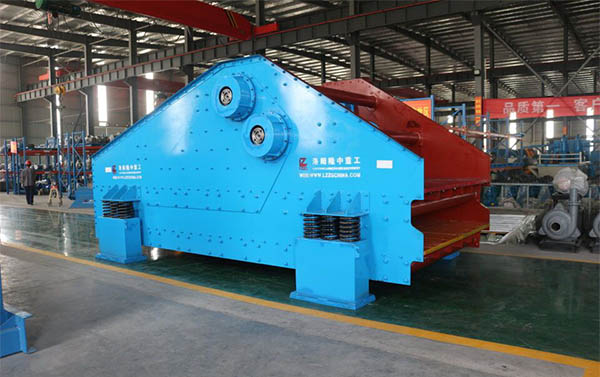 Dewatering screen adopts dual motor self-synchronization technology, universal eccentric block and adjustable amplitude vibrator. Mainly composed of screen box, vibration exciter, support system and motor. Two unconnected vibrators are respectively driven by the tape coupling shaft for synchronous reverse operation, and the centrifugal forces generated by the two sets of eccentric mass are superimposed along the component of vibration direction, and reverse centrifugally canceled. Thereby forming a single excitation to make screen box as a reciprocating linear motion.
The performance of LZZG dewatering screen
1. Dehydration, screening, vibration transmission and vibration absorption are organically combined.
2. Material is in a micro-throwing state, so that the groove plate is little wear. The conveying dewatering tank is made detachable for cleaning and replace easily.
3. The dewatering vibrating screen has small volume, light weight, simple and compact structure, low energy consumption and low noise, which is conducive to energy saving and working environment improving.
4. The vibration motor is fixed by high-strength bolts; the bottom of dewatering screen is supported by rubber spring; the density of sieve plate is high, and the reinforcing plate is struck in sieve plate.
5. The model can be customized according to output and water content, and the screen mesh can also be adjusted as needed.
6. The dehydration vibrating screen is equipped with a brake control system to make the start and stop quick and stable, and it is also convenient to realize centralized control and automatic control.
7. The simple installation and operation, stable and reliable operation, convenient use and maintenance.
8. Before delivery, the staff will debug it, whether the vibration motor is normal, and whether the vibration exciter is running well, to ensure the high quality manufactured products for customer.
9. Additional value of dewatering screen: for products with low mud content, the dewatering screen can be used directly, this not only can achieve the same effect, but also save costs.
10. The high-frequency dewatering screen adopts the side opening of sieve plate to allow part of water to flow out quickly from the hole, which accelerates the dehydration speed, and also avoids the damage caused by water splashing on the motor.