How to separate clean water from muddy water?
The muddy water treatment process in sand and gravel washing plant is to separate the solid suspended matter and harmful substances in sewage to obtain clean water that can be recirculated during the process normally or discharged directly. This step is also called sewage de-sludge. At present, the effective sewage de-sludge method is to use zero-emission sewage treatment scheme for high efficiency and low cost.
The environmentally friendly zero-emission system of muddy water treatment system developed by LZZG can separate solid and liquid, solidify mud, clear water, and recycle the sand washing water. The equipment has reasonable structure, advanced technology, fine production, good separation effect, large processing capacity, high degree of automation and small floor space. And the patented wear-resistant technology greatly improves the service life of the equipment! This system is specially suitable for the separation of various mud and water such as construction piling mud, sand washing wastewater treatment, sand field mud dewatering, washing wastewater treatment.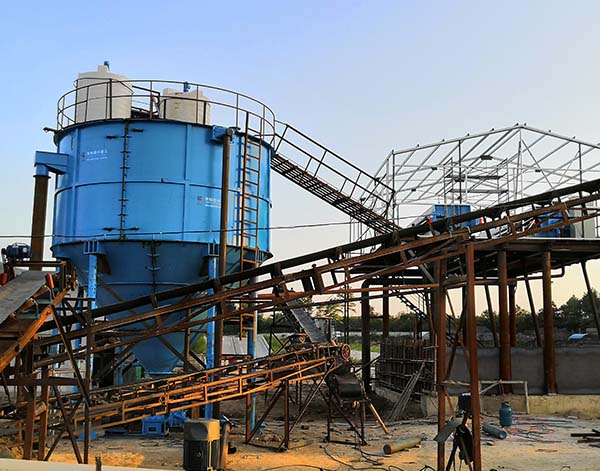 The muddy water in sand washing plant is a mixed liquid of fine mud particles with a certain specific gravity in water. It generally has the following characteristics: earthy yellow, uniform and sticky, long-term static and non-stratified,PH value: 6-7. If the proportion of sand is relatively heavy, fine sand recovery machine can be used firstly to recycle cotton sand to reduces the mud content and specific gravity. Then use the box filter press in subsequent process is more efficient and costs reducing.
A large amount of muddy water is generated in sand and gravel production process, the traditional treatment method is to build a sedimentation tank to naturally precipitate. However, the natural sedimentation effect is not good, many fine sand particle suspensions can not be precipitated, and the floor space is large, production efficiency is low, and the production cost is wasted. There is also no recycling of resources and pollution of groundwater and other environments. Especially in areas where water resources are scarce, the recycling of these water resources is particularly important.