Double wheel sand washing machine for sale
Double wheel sand washing machine, which belongs to the processing equipment for sand washing to clean and separate stone powder in sand and gravel. It is widely used in various industries such as construction sites, sand and gravel plants, concrete dam sites of hydropower stations, etc.
The main technical feature of double wheel sand washing equipment is that a plurality of washing buckets are installed around the periphery of each runner, and water leakage holes are distributed on the wall of sand washing bucket; the output shaft of motor passes through belt transmission speed reducer, and the sprocket transmission on output shaft of speed reducer drives the impeller to rotate. So double wheel washing machine has utility structure, reliable transmission device. And the effect of washing and dehydrating is ensured through secondary sand washing. Therefore, it is a high-efficiency sand processing machine used in conjunction with sand making machine.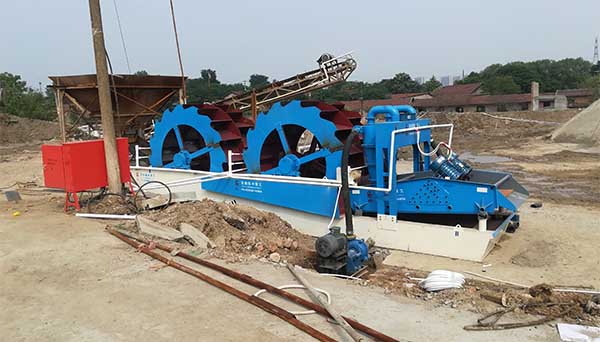 Advantages
1. High degree of cleaning
During the tumbling process, sand in washing machine rub each other to remove impurities on the surface of each other. In the process of friction, the water vapor layer covering sand particles can be destroyed. After the water vapor layer is destroyed, the material dehydration effect is better. The materials cleaned by wheel washer have a cleaner "appearance", which has higher application value and better sales.
2. Low sand loss rate
The traditional sand washing machine will cause a lot of material loss during cleaning process, which not only causes waste of resources, but also greatly reduces the output. At present, the loss rate of fine sand in cleaning process of new type bucket sand washing machine on the market is very low, and the processed products are more in line with the standard building requirements.
3. Low failure rate
The reason why failure rate of wheel washing machine is low is that the equipment has simple structure and less wearing parts. The second wheel washing machine adopts a fully blocked oil bath type transmission device. During the cleaning process, the drive system of the sand machine is separated from the water and materials, which will not cause the failure of the transmission system and greatly reduce the overall failure rate.
Attention: In the process of cleaning material, the amount of material to be cleaned at one time should not exceed the specified processing amount, because this will not only reduce the cleaning efficiency, but also damage the equipment.