Ts dewatering screen for sand and gravels
Posted: 2018-02-23
Dewatering screen is mainly used for dehydration, de-sludge, de-intermediation, which can be used for sand washing in sand and gravel plant, coal slurry recovery in coal preparation plant, dry discharge of tailings in mineral processing plant, etc., So it is also called sand dewatering screen, mining dewatering screen, slime dewatering screen, tailings dewatering screen, high frequency dewatering screen, etc. The dewatering screen recommended by Longzhong Heavy Industry is mainly used in the wet sand production line, and it can be used together with sand washing machine.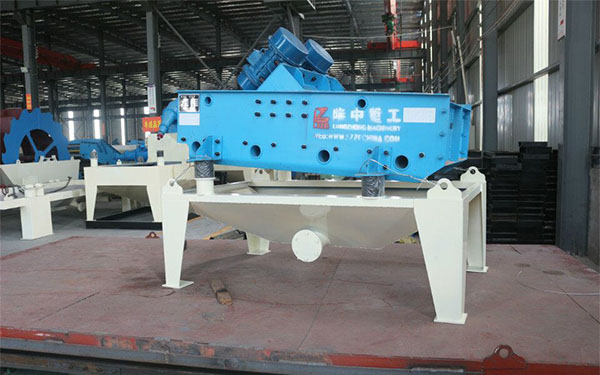 Working principle of dewatering screen
1. The dewatering screen is adopted vibration exciter, and the movement track is more stable and reliable, which is different from the general type of belt coupling driving method.
2. When two motors rotate synchronously in opposite directions, the vibration force generated by eccentric block cancels in the direction of parallel motor axis, and is combined in the direction of the vertical motor shaft, so the movement track of screen machine is a straight line. .
3. The two shafts have an inclination angle with respect to the screen surface in the vertical direction. Under the combined action of vibration force and the material self-gravity, the material on screen surface moves forward along the continuous jump.
4. In the process of meeting sieve surface, the material and water smaller than sieve hole are penetrated through the sieve surface, thereby achieving dehydration, de-sludge and classification.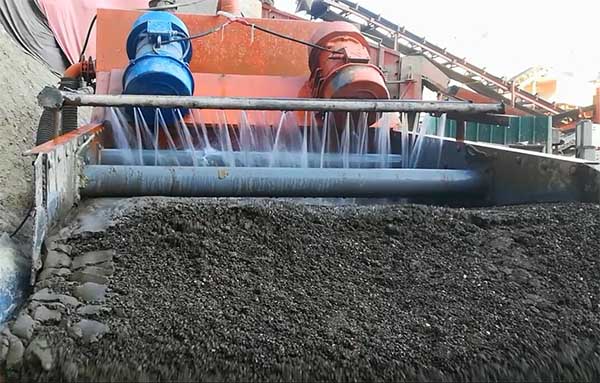 Dewatering screen performance advantages
1. The material of dewatering sieve mesh is made of high molecular polyurethane, which is resistant to impact, low temperature, abrasion, chemical corrosion, self-lubrication, impact energy absorption and impact resistance in all plastics. Thewear resistance is better than materials such as polytetrafluoroethylene, nylon, carbon steel.
2. The vibration motor of dewatering screen is easy to replace, the base rubber spring is used for shock absorption, so that the amplitude is not large, the vibration is slow, and it can be cleaned off.
3. Dewatering screen can be customized according to the output and water content, the side panel of fuselage has a reinforcing plate, the bottom is equipped with support, the bottom is marked with a horizontal bar, the discharge port is supported by a triangular steel plate, the plate is thick,
4. The vibration motor is fixed with high-strength bolts, and the bottom spring is a rubber spring. The quality of spring will affect the life of vibration motor. The sieve plate is fixed in a high density, and the sieve plate is provided with reinforcing ribs.
5. After the welder has welded, the weld hole will not appear strictly, and the bottom is supported by channel steel.
6. In addition, the sieve hole can be adjusted according to needs, the equipment noise is small, and the dewatering effect is good.
7. Before delivery, the staff will debug it, whether the vibration motor is normal, and whether the vibration exciter is running well, to ensure the factory output is guaranteed for customes.