Dewatering Screen Remove Excess Moisture from Tailings
High-efficiency and multi-frequency dewatering screens are currently a kind of dewatering equipment with remarkable dehydration effect.

LZZG tailings dewatering screen adopts many unique techniques in design.Under the same specifications, it has greater processing capacity, higher screening efficiency and better dewatering effect than conventional screens.
It can be applied to a variety of industries, especially suitable for materials with small particle size, such as fine sand and tailings. The sieve hole size can be adjusted according to user needs, and the moisture content of the finished product is low.
How Tailings Dewatering Screen Work
Tailings dewatering screen is driven by two vibrating motors, which make the screen sieve move to-and-for on line to achieve the filtering purpose. The first step is installed at a horizontal angle of 45 degrees, about 1/3 of the moisture is removed from the pre-dewatering sieve plate.
After entering the joint portion of the pre-tilt sieve plate of the flat sieve plate, material deposition occurs, and the boring particles are sedimented by gravity to form. With a thinner filter layer, the filter layer prevents the remaining particles from passing through the screen, causing the filter layer to gradually thicken.
The water that has not been sieved forms a pool in the upper part of the filter layer. Since the filter layer is thinner, the moisture gradually removes under strong motion, and the high-frequency and low-amplitude vibration state makes the tailings and other particles forming the filter layer more The denser it is, and it vibrates to the discharge opening to form a filter cake.
The moisture in the boring is removed from the surface of the sieve surface by the capillary, and the water is not attached to the surface of the layer due to the capillary angle. The discharge port overflows, but flows to the joint pool to complete the material dewatering work.
The dewatering screen panels are mainly made of stainless steel and polyurethane, etc., and users can purchase it according to their own needs.
Tailings Dewatering Screen Features/Benefits
1. Effective separation of several different sized particles.
2. The moisture content of the finished product is as low as 12%-15%.
3. Adjustable vibration frequency, and the capacity is high and efficient.
4. Twist-cut high-strength bolts are used between the side plates and the beams, without welds to avoid cracking problems.
5. The screen plate is made of polyurethane mesh with better elasticity and less adhesion.
6. The PU side push plate is anti-corrosion and moisture proof, and the protection device prolongs the service life.
7. The power source adopts vibration motor, no bearing parts such as bearings and couplings, simple structure, convenient operation and maintenance, and can work 24 hours.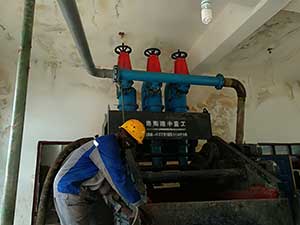 Popular Applications
Dewatering mineral concentrates
Dewatering tailings
Dewatering sand
Drain and rinse
Scalping oversize from suspensions and slurries.