Trommel Screen for Municipal Solid Waste
Trommel screen for municipal solid waste has initially solved the problem of municipal solid waste screening and improved the screening efficiency. Trommel drum screens mainly solve the problem of screen blockage by using the size, shape and arrangement of screen holes. The following more reasonable design of the size, processing capacity, installation inclination angle of the drum screen, and the study of the trajectory of solid waste will help improve the screening capacity of the drum screen and make it more practical.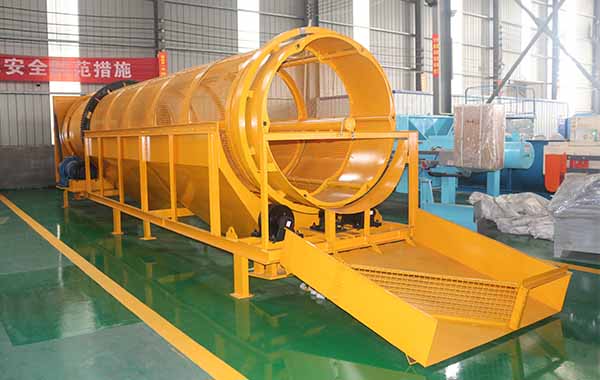 The drum screen adopts a cylinder structure, and the screen surface is a cylinder with holes. The sieve holes are arranged spirally. And in order to improve the efficiency, the length of drum can also be increased, and two types of screen holes can be opened. When working, the screen cylinder is slowly rotated around the shaft under the driving of the transmission device. The solid material is fed from one end of the screen cylinder and is carried by the rotating cylinder. When it reaches a certain height, it should fall by gravity on its own.
When the vibrating screen is at a lower frequency, the material on the screen surface is easy to deposited. When the vibration frequency is higher, the deposition rate decreases. However, since the vibrating screen does not have the effect of tumbling the solid waste, siltation will still exist. Large particles of municipal solid waste are mixed with small particles, resulting in low screening efficiency of the vibrating screen.
For oscillating screens, due to the radial inclination of the eccentric shaft to the drive shaft, the screen will produce vertical runout and material flow. The inclination assembly makes the discharge speed too fast, which allows some materials to be discharged directly from the discharge opening without screening, which reduces the efficiency of sorting. A small inclination angle will cause the material to accumulate in the center of screen and hinder the discharge. Similarly, the swinging screen does not have the effect of tumbling the solid waste, so it is not suitable for municipal solid waste screening.