Trommel Screen for Gravel and Sand Philippines
Trommel screen is a very widely used machine for gravel and sand Philippines that adopts sorting technology, which is mainly driven by the vibration of the motor to carry out screening, classification. And the classification accuracy is high. Stones of different specifications are screened out by different meshes and dropped into the belt conveyor and sent to the finished product yard.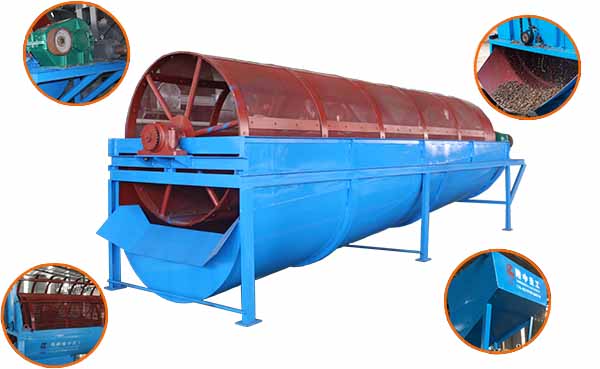 Trommel drum screen is widely used for the screening of various solid materials with a particle size of less than 300, and the screening capacity is 20 tons / hour to 300 tons / hour. Currently trommel screen is suitable for the classification of large and small stones in the quarry, and the separation of soil and stone powder, and the separation of sand and stones in the sand yard; coal industry, used for separation of lump coal and pulverized coal, washing coal; chemical industry and beneficiation industry, used for classification of large and small lumps and separation of powdery substances. The maximum product under the screen is less than 100mm, the middle is 10-50mm, and the thinnest product is less than 3mm.
The barrel of the trommel screen is generally divided into several sections, depending on the specific situation. The sieve holes are arranged from small to large, and the sieve holes have the same pore size on each section. The trommel drum screen is mainly composed of a motor, a reducer, a drum device, a frame, a sealing cover, and an inlet and outlet. The roller sieve motor is connected with the drum device through a coupling through the reducer and drives the drum device to rotate around its axis. Sand and gravel are separated from top to bottom through the sieve cylinder. Fine sand and gravel are discharged from the lower end of the sieve cylinder, while coarse sand and gravel are discharged from the lower end of the sieve cylinder. During the separation process, the sieve body is continuously "combed" by the relative movement of the sieving mechanism and the sieve body, so that the sieve body is always kept clean during the entire working process, and the screening efficiency is not affected by the blockage of the sieve holes.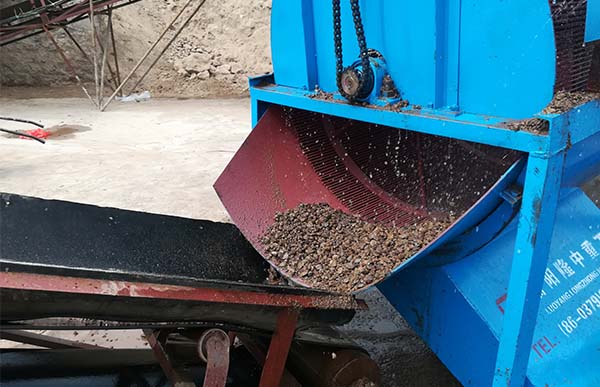 Features
1. Adopting rolling conveying principle, the friction coefficient is small, the wear is light, and the screen holes are not easy to be blocked.
2. The roller bearing adopts the overall through-shaft structure, which runs smoothly, and has low noise.
3. The roller body adopts an effective fully sealed structure, which does not raise dust and pollution.
4. Adopting deceleration transmission, safe and reliable operation, high transmission efficiency, low belt power, low energy consumption and obvious energy saving effect.
5. The different screen materials and screen hole can be customized according to customer requirements, high screening efficiency.