Spiral Sand Washing and Recycling Machine for Sale
The spiral sand washing and recycling machine developed by LZZG on the basis of innovative screening washing device technology has solved the shortcomings of the current sand washing equipment on the market. The spiral sand washing machine is a multi – functional water washing sand equipment that combines the functions of sand washing, sand and stone materials dehydration and fines recovery.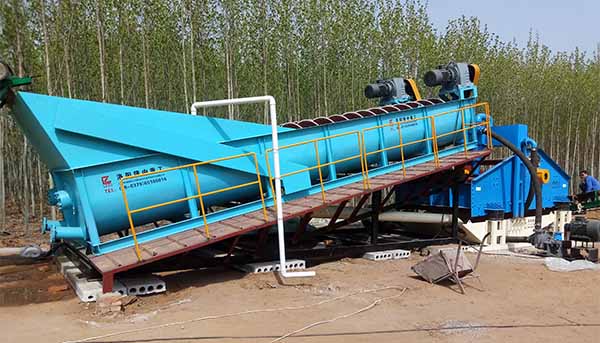 In some special sand washing production lines that are susceptible to environmental and topographical influences, such as mining, aggregate processing, piling mud, river dredging, urban construction waste incineration, ceramic raw material processing, silica sand production and processing, various metal ores, tailings treatment, etc., a new type of sand washing machine with small footprint, simple operation, high efficiency and strong cleaning ability is needed. The machine consists of a spiral sand washer, dewatering screen, and cyclone, which are combined with clever design. Compared with the price of the equipment purchased separately, the choice of the spiral sand washing machine is undoubtedly more cost-effective, and can also be equipped with a single helix or more power double helix according to demand.
When the spiral sand washing machine is working, the material inside the spiral washer washing tank is pushed by the blade to the front end discharge port, rinsed with water, and then discharged through the discharge port to the dewatering screen. Under the strong vibration frequency of the dewatering screen, the material continues to move forward, and the water on the material falls into the interior of the cleaning tank through the screen, and the dehydrated material is discharged through the discharge port to form a pile. The overflowed water in the water tank is pumped to the cyclone. The cyclone is a common separation and classification device, which applied the principle of centrifugal sedimentation. When the two-phase mixture to be separated is tangentially introduced into the cyclone from a periphery of the cyclone at a certain pressure, a strong three-dimensional elliptical strong rotational shear turbulent motion is generated, thereby achieving the purpose of separation and classification. The concentrated material falls into the dewatering sieve and is discharged through the discharge port. The tailwater separated by the cyclone flows into the inside of the recovery tank. This is the whole process of the spiral sand washing machine.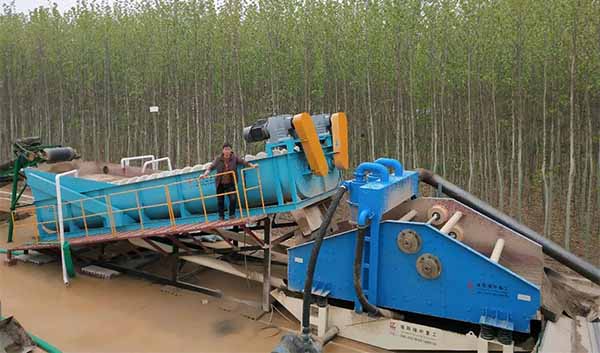 Advantages
1. Multi-function of the washing, dewatering, and fines recycling.
2. Compact structure, the whole frame.
3. Easy to produce and process, short production cycle,
4. Small floor print, big processing capacity.
5. The slurry pump and the cyclone are connected to form water reflux, saving water.