Small Trommel Screen for Sale
The small trommel screen is a piece of sorting equipment that is classified according to the particle size of the material and is generally suitable for the classification and screening of medium and fine grain materials. It can be widely used in the classification of products in mining, building materials, transportation, energy, chemical, and other industries, especially for grading and screening of ceramsite. And with the characteristics of stable operation, low energy consumption, easy maintenance, and flexible and straightforward process layout.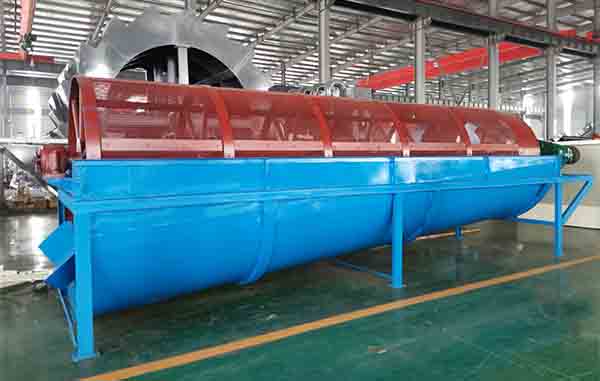 How does the trommel screen work?
1. The motor drives the roller mounted on the frame to rotate around its axis through the reducer and the coupling.
2. Due to the inclination and rotation of the drum, the material entering the drum is continuously turned over and rolled while being deposited from the top to the bottom through the grading screen.
3. Due to different screen specifications, the materials are gradually separated and screened. The materials with acceptable particle size (undersize) are sieved and then dropped into the respective lower hoppers. The unqualified materials (on the sieves) pass through the discharge opening at the tail of the drum. discharge;
4. Due to the turning and rolling of the material in the drum, the material stuck in the screen hole can be ejected, preventing the screen hole from being blocked.
Composition
The small trommel screen mainly includes a transmission system, a roller device, and a frame.
1. Transmission system: including motors, belt drives, reducers, couplings, etc. The drive is smooth, reliable and noise-free.
2. Roller unit: mainly includes drum, bearing support, screen mesh, beading, etc.; the drum is arranged obliquely, and its support adopts integral through-shaft structure, which has high overall strength and rigidity, ensuring the smooth running of the drum;
3. Screen: fixed by beading and easy to replace; it can choose a fully enclosed structure (with cover, no dust pollution) or an open structure according to the characteristics of screening materials.
4. Trommel screen frame: adopts integral welding forming, compact structure, and high reliability.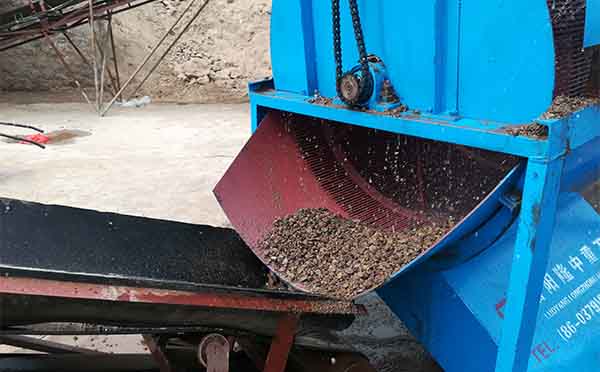 Advantages
1. Adopting the principle of rolling conveying, the friction coefficient is small and the wear is small. The roller support adopts an integral through-shaft structure, which runs smoothly and has low noise. Fully enclosed or open structure depending on screening needs.
2. Flexible process layout can be combined with different specifications of the screen. The special screen is adopted, which has high screening efficiency and long service life. Less wearing parts, small maintenance, and easy maintenance.
3. Strong adaptability to materials. Materials with various properties such as viscosity, humidity, dirt, and impurities all can be sieved. Due to the low speed, the work is stable and can be installed on the upper layer of the equipment. And the feeding method is flexible. It is easy to achieve a large-scale.