How To Sort Low-Grade Lead-Zinc Oxide Ore?
Lead and zinc metals are widely used in various industrial fields. However, in the actual mining process, the composition of lead-zinc oxide minerals is complex and the mineral structure is complex. Therefore, the selection and smelting technology of ore put forward higher requirements. The following will systematically introduce the beneficiation technology of low-grade lead-zinc oxide ore.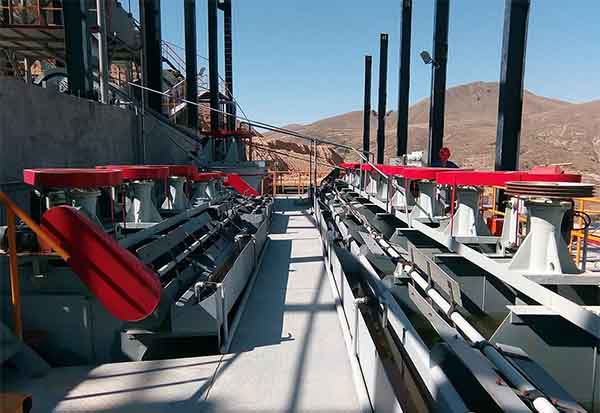 Lead-zinc ore beneficiation process
According to the different floatability of useful minerals in lead-zinc ore, different sulfidation flotation methods need to be adopted. The methods of treating lead-zinc oxide ore include sulfide flotation, direct flotation with anionic collectors, and leaching flotation. The most commonly used method is sulfidation flotation. According to the different degrees of floatability of lead and zinc, the method of first suppressing the floating of lead, then activating zinc, and then recovering lead and zinc concentrate, in turn, is the priority flotation method. After the lead and zinc concentrates are mixed and floated, the method of separating lead and zinc concentrates is the mixed flotation method.
The beneficiation of lead-zinc ore is mainly based on the flotation process, and the choice of the agent has an important influence on the flotation effect. Flotation reagents are mainly used to adjust and control the process of flotation, and weaken or improve the flotation of materials, so that gangue and ore can be separated to achieve the purpose of removing impurities or extracting useful ore particles. Lead-zinc ore agents mainly include collectors, activators, and inhibitors.
1. Collector
In the flotation of lead-zinc ore, the commonly used collectors are butyl xanthate and ethyl xanthate. Both of these agents have the strong capturing ability.
2. Activator
Since the floatability of zinc is worse than that of lead, lead is often preferentially floated in the flotation process. Copper sulfate is an activator with a better activation effect at present.
3. Inhibitor
From the perspective of environmental protection, the use of fluorine-free inhibitors is an inevitable trend, mainly zinc sulfate and sulfite. Zinc sulfate is the most important and common inhibitor in fluorine-free processes, and is often used in combination with other inhibitors. Sulfite has a better inhibitory effect under neutral and alkaline conditions, but has no inhibitory effect under acidic conditions.