Frac Sand Production Process
The frac sand production process includes five main working stages: raw material extraction, raw material drying and pre-screening, raw material washing, and concentrate drying. The grain size of the output sand is round and the compression value is higher. The fracturing sand production line can solve the problems of fracturing sand grading, washing, tailwater purification, and dry discharge of solid waste. The whole production line has the characteristics of large output, high efficiency, and stable operation.
Oil fracturing sand is a ceramic particle product with high fracturing strength, which is mainly used for downhole support in oil fields to increase oil and gas production. The whole fracturing sand production line can be divided into five working stages, raw material mining stage, raw material drying and pre-screening stage, raw material washing stage, concentrate drying stage, finished product screening and packaging stage. LZZG can provide equipment for the raw material drying stage, raw material pre-screening stage, raw material washing stage, concentrate drying stage, finished product screening, and packaging stage, as well as production process design and equipment selection.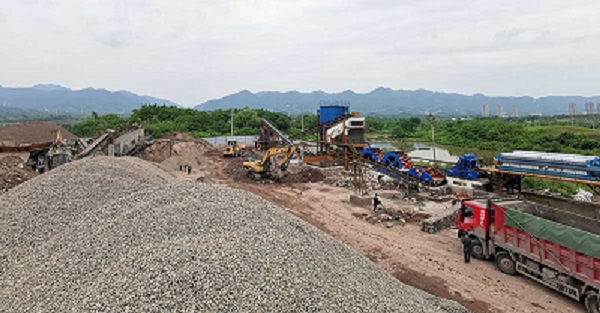 Main equipment
Linear vibrating screen, swing screen, magnetic separator, scrubbing machine, sand washing machine, dryer, high-efficiency deep cone concentrator, box filter press
Frac sand production line process
1. The raw sand of fracturing sand enters the silo for storage, and is transmitted to the vibrating screen or probability screen for a preliminary screening through the belt conveyor.
2. Particles <20 meshes enter the scrubbing machine after being magnetically separated by the magnetic separator, and are thoroughly stirred and rinsed to scrub off the mud on the surface of the material.
3. The material from the scrubber enters the sand washer. The sand washing bucket rotates and the material in the cleaning box is stirred for cleaning, which can remove the impurities covering the surface of the material. After cleaning, the coarse particles are sent to the dewatering screen for dehydration. The tailwater is pumped into the separator by the slurry pump, and the sediment is separated by the separator. After recovery, the fine material is discharged to the screen surface of the dewatering screen and the coarse material is evenly mixed and dehydrated before discharging.
4. At the same time, the sludge-water suspended matter treated by the separator is discharged into the sewage tank, and then the tailwater is pumped from the sewage tank into the concentration tank by the pump for the mud-water separation operation. The concentrated mud is pumped into the plate and frame filter presses through the bottom of the filter tank to achieve dry stacking. After pressure filtration, the clean water enters the clean water tank to realize the recycling of clean water.
5. Drying. The dehydrated material from the dewatering screen enters the dryer for drying.
6. After drying, the particles enter the swing screen to screen out several finished materials.