Ultra Sand Recovery Units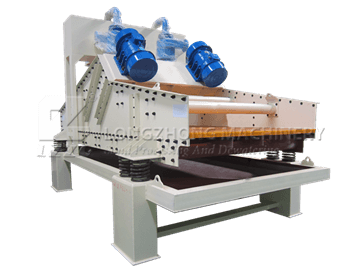 Introduction
LZZG Ultra Sand Recovery Units use hydrocyclone recover fine sand that overflowing from the sand washing plants, generally, 0.04-3mm fine materials can be well recycled >95%, without additional  chemicals.
LZZG Ultra Sand Recovery Units are designed 30-350tph and produced final product with residual water content 10–15%. This recycling units are suitable for aggregates, coal ,concrete, frac sand, idustrial sands, frac sand, and more.
Working principle
The overflow of washing machines(wheel washers or washer screws)is fed to hydrocyclones by slurry pump with high pressure. Most fine materials (+300 mesh) concentrated by hydrocyclones goes to dewatering screen through underflow exit. After dewatering, the hydrocyclone underflow turn to be a dryer materials, moisture content <20%.
Little fine materials and mud passing through the dewatering screen panels goes back to water tank, with pump and hydrocyclones, fines recycling preocess will recirculated. The fines fineness can be regulated by hydrocyclone sizes, water volume and pump speed.
LZZG recovery unit is consist of Hydrocyclones, Vibratory Motor, Dewatering Screen, Cleaning Tank, Overflow Outlet, Steel Spring, Pump etc.
Features
1.Fine sand recovery system can recover 85% of the whole fine particle.
2.Maximum fines recovery, 0.04-3mm is available, lower mud content.
3.Compact structure and install easily.
4.Final water content can be reduced to 10-15%.
5.Customized sand recycling equipments are supportive.
Tech specifications
Model
Slurry pump
Whirl cone
Polyurethane screen
Capacity (m³/h)
Weight (t)
Power(kw)
Material
Diameter (mm)
Size (m)
Square meter
Power (kw)
LZ10-25
7.5-11
Cr26
250
1*2
2
2*1.5
30-80
2.25
LZ10-30
11-15
Cr26
300
1*2
2
2*1.5
40-100
2.7
LZ12-55
15-22
Cr26
2*250
1.25*2.5
3.1
2*2.2
100-200
3.75
LZ12-65
18.5-30
Cr26
2*300
1.25*2.5
3.1
2*2.2
120-250
4.25
LZ15-65
18.5-30
Cr26
2*300
1.5*3
4.5
2*3
150-275
5.15
LZ15-75
37-55
Cr26
2*350
1.5*3
4.5
2*3
180-350
5.65