Rotary Trommel Scrubbers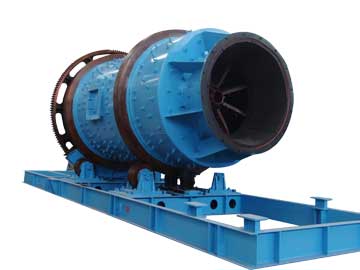 Brief introduction:
LZZG rotary trommel scrubbers are cylindrical drum type stone scrubbers. Which are mainly used for cleaning, desliming of gravels, aggregates, sandstone and ore, espical lump ores that are hard to clean.
LZZG rotary drum scrubber has a large-sized feed materials ability(materials within 0-300mm), sludge content of washed aggregates is less than 0.5%, the water content is less than 2%, and the ore washing efficiency is about 98%.
LZZG rotary trommel scrubbers divided into two types: cylinder type and cylinder +trommel screen type.

Working principle:
When working, the cylindrical drum supported by 4 trunnion rollers rotates at low speed driven by motor. Aggregates containing mud and stone powder enters the rotating drum from inlet, lifted and dropped by wear-resistant rubber liners installed in the drum continuously, and scrubbered repeatedly by forward or reverse water flow.
After continuous scrubbering action, the cleaned gravels are discharged after being screening and dewatering through the discharge end drum screen, and the waste water containing sludge flows out through the perforated baffle of the inlet or outlet.
Features:
1.Designed for large-sized gravels, clays and sand.
2.high power scrubbing, high-capacity and high-retention.
3.Rotary speed adjustable.
4.Long drum design with more vigorous scrubbering for complete separation.
| | | | | | | |
| --- | --- | --- | --- | --- | --- | --- |
| Model | Maximum feed size (mm) | Cylinder diameter (mm) | Cylinder length (mm) | Drum speed (r/min) | power (kw) | Capacity (t/h) |
| GTX1530 | 50 | 1500 | 3000 | 30 | 55 | 70-140 |
| GTX1836 | 80 | 1800 | 3600 | 25 | 75 | 120-200 |
| GTX2145 | 150 | 2100 | 4500 | 21 | 110 | 180-250 |
| GTX2450 | 200 | 2400 | 5000 | 18 | 160 | 230-300 |
| GTX2760 | 250 | 2700 | 6000 | 16 | 220 | 280-420 |
| GTX3075 | 300 | 3000 | 7500 | 15 | 370 | 400-500 |