Used Sand Screw Washer for Sale
Sand screw washer is special mechanical equipment that is mainly used for removing impurities from sand and gravels, which can be divided into double sand screw washer and single sand screw washer. It can effectively process the materials that mixed impurities into clean for 0-30mm particles. The finished products treated by a spiral sand washing machine have a soil and stone powder content of less than 1%. It is very suitable for high-grade and high-standard construction industries such as large overpass bridge piers and bridge decks, railways, and highway tunnels, and enhances the solidification strength and firm structural strength of the cement concrete.
The sand screw washer has a simple structure and stable performance. It is composed of a tank body, a speed reducer, a motor, a central shaft, a spiral blade, and a bracket. The impeller drive bearing device adopts a special sealing device to be isolated from water and water-receiving materials, which greatly avoids the bearing damage caused by water immersion, sand, and pollutants.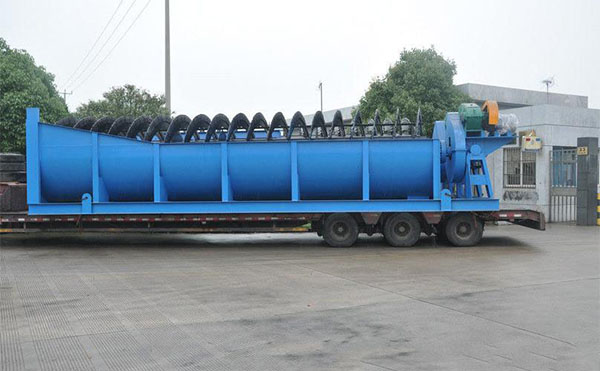 Working principle
When the sand washer screw is working, the motor drives the impeller to slowly rotate after being decelerated by the V-belt, speed reducer, and gear. Materials entering to washing tank through feeding chute, and rolling under the impeller, and grinding each other to remove the impurities covered on sandstone, at the same time, destroy the water vapor layer covering the sand at the same time to facilitate dehydration. At the same time, water is added to form a strong water flow, and foreign matter with small impurities and small specific gravity is taken away in time and discharged from the overflow port to complete the cleaning. The finished products are carried away by the blades, and finally, the sandstone is pushed into the discharge trough from the rotating spiral blades to complete the cleaning of the stone.
Advantages
1. Has a simple structure and stable operation.
2. The bearings are separated from the water and materials to avoid premature damage caused by pollution and rust.
3. The spiral sand washing machine is suitable for a variety of working environments.
4. Less material loss and the washing efficiency is high, which can fully meet the requirements of high-grade materials.
5. Long service life, almost no wearing parts.
6. In rare cases need to be repaired, so it can greatly reduce costs.
In addition to washing sand and aggregate, the sand washer screw is also suitable for washing, grading, and removing impurities in metallurgy, building materials, hydropower, and other industries. Especially for construction and gravel for road construction. The spiral sand washing machine has low power consumption and a high washing degree. The sealing structure is good, the fully enclosed transmission device and the adjustable jaw plate ensure the high efficiency, durability, good cleaning and dewatering effect, and the stability of fine grain products.