The importance of combination sand washing machine with dewatering screen
Sand washing machine is a main product in LZZG, it enjoys a high reputation in the minging field, and many customers are eagerly interested in it, with the characteristics of high content of fine sand, low content of water, considerate economic benefits and environment friendly and so on.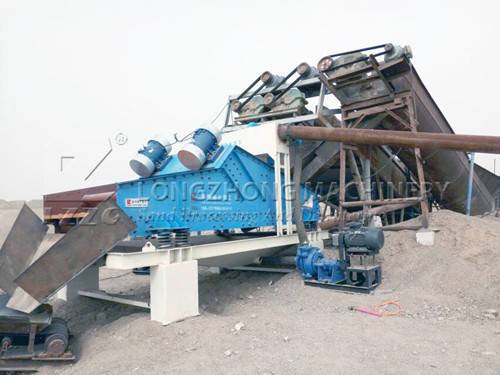 As we all know, if a company doesn't keep up with time, know well about the market and understand customers'needs, well, this company will be weed out by the market.So, our company stick to innovate and develop product, thus sand washing and dewatering screen has aqqeared.Now, let us tell you the importance of combination sand washing machine and dewatering screen.
Dewatering screen, its main function is dehydration, desliming, and removal. It can be used for sand washing in sandstone material plant, coal slime recovery in coal preparation plant, dry tailings in concentrator, etc. It is also called sand dewatering screen, mine dewatering screen, Slime dewatering screen, tailings dehydration screen, high-frequency dehydration screen and so on.
Although it belongs to dewatering equipment, the structure of the dewatering screen is different when acting on different materials. For example, the sand dewatering screen on the washing sand production line and the tailing dewatering screen commonly used in concentrators are different equipment.The dewatering screen recommended by lzzg is mainly used in the wet sand production line. It is used together with the sand washing machine .
Now, maybe some customers confuse that why combine a sand washing machine with a dewatering screen? First of all, the sand washed by the sand washing machine is not very clean, the sand contains a large amount of mud and it is too wet(large content of water), and does not meet the high production requirements of low content of sand. Therefore , it is necessary to configure the dewatering screen.
Gravel was washed by sand washing machine, and then the water is washed through the dewatering screen, followed by secondary sand washing, hydraulic grading, desliming, and dewatering to achieve a reasonable particle size ratio and reduce the mud content to less than 0.7%.