Spiral sand washing machine introduction
Spiral sand washing machine is a common type of sand washing machine, which mainly stirs the sand and gravel materials through the helical blade to make the mud and impurities in sand stone material is mixed with water to realize the cleaning and screening of sand stone material. Spiral sand washing machines are especially suitable for the washing, grading and impurity removal of medium, fine-grained and coarse-grained materials in the highway, hydropower, construction and other industries.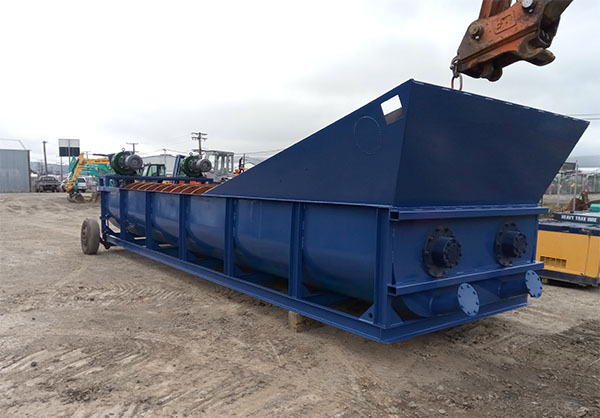 Spiral stone washer mainly classifies and cleans the mortar materials, which guarantees the qualified sand and gravel materials for construction. It mainly ultilize the principle of different weight of material cause the different sedimentation speed. Generally is as following:
Material enters the settling zone at the lower end of spiral sand washing machine through the feed port. In this area, the low-speed rotary screw shaft continuously stirs the mortar. During the mixing process, a part of the finer particles are suspended in the entire upper part due to their own weight, and flow out through the overflow side to continue to the next process. At the same time, the coarser particles sink into the bottom of tank to form coarse sand, which can be directly discharged from the discharge port as needed.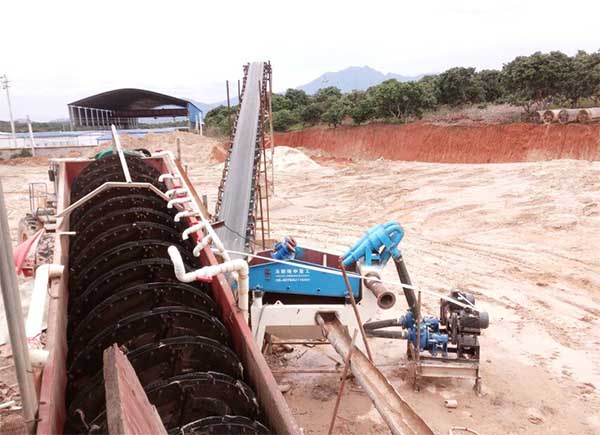 The various components of spiral stone washing machine have fulfilled their different missions, so achieve the high efficiency and large output of sand washing.
1. Deceleration and transmission device. As the main part of sand washer, reducer gears can be used to achieve the deceleration. After the sand washing device is decelerated, the bevel gear is further rotated in the opposite direction by the engine to realize the transmission.
2. Helical blade. The spiral blade has the functions of stirring and mixing the materials in the washing process. It has the advantages of high production efficiency, saving raw materials, good blade quality, high hardness and good wear resistance.
3. Transmission shaft. The drive shaft of spiral sand washing machine is distributed inside the tank body, and is generally distributed longitudinally in pairs. A number of radial strips are seen along the direction of the hollow drive shaft, and these spokes are held by a certain amount of the spiral. It is common practice to use some of blades on the outside of spiral for fixing, so as to effectively prevent them from being worn, and even if worn, can be solved directly by replacing the blades.
4. Washing tank. The tank property of spiral sand washer is iron trough type. The bottom of washing tank is usually a closed arc, which is mainly used to withstand a certain amount of material and pulp, and also has a certain supporting force on the spiral.