slurry dewatering has its specialized screen
Slurry dewatering screen, the main role is dehydration, desliming. It has many usage such as sandwashing, coal recovery, coal washing, tailings discharge drying, therefore it is also called the sand dewatering screen, mine dewatering sieve,tailings dewatering and so on.
Slurry dewatering screen uses double vibrating motors to drive,when two motors rotate synchronously and reversely, exciting forces generated by eccentric block are resolved in parallel to the direction of motor axis and then united as one across the motor axis direction,so its movement track is linear.There is an angle of inclination between the two motor bearings relative to the screen deck. Under the influence of the resultant force of exciting force and materials itself weight,materials are thrown up to make leapfrog and linear movement forward on the screen deck in order to screen and grade the materiel .Applied in flowing line to achieve automatic operation.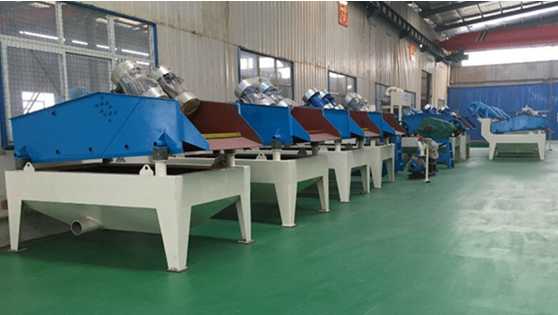 Features:
1. Automatic alignment of tensioning bolts for side tension woven wire decks ;
2. Multiple design of screening surface available ;
3. Weaving screen plate and stainless bar strip,only one could be optional, screening pore size should beindicated when placing order ;
4. Sieve body parts are made of rolling welded steel plate and profiles (part of ligand for the bolt connection), so the overall stiffness is good, solid and reliable ;
5. Adopted the eccentric block vibrator, so it not only can strengthen the vibrating force,also can be adjusted randomly .