Reasons And Solutions for Unsmooth Discharge of Vibrating Screen
The vibrating dewatering screen is a commonly used material screening equipment, which has the characteristics of small size, lightweight, high efficiency, and multiple layers. During the use of the equipment, it is inevitable that the failure of the vibrating screen will not discharge and not feed. The following introduces the reasons and solutions for the unsmooth discharge of the vibrating screen.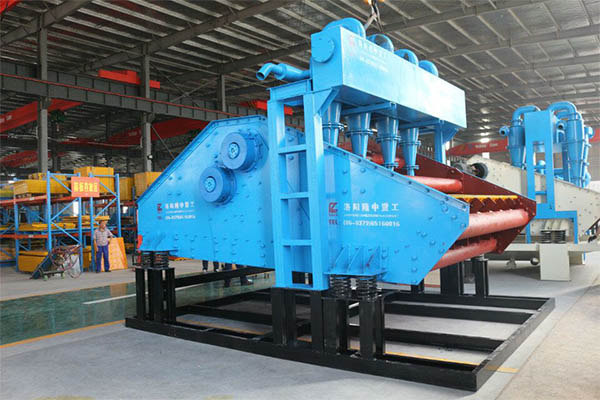 The reason why the vibrating screen does not discharge
1. The screen box of the vibrating screen is not kept horizontal. If the screen box is not horizontal, the screen surface will be offset to a certain extent, and the material cannot flow in a straight line.
2. The rigidity of the support spring of the screen box causes the material to be subjected to excessive excitation force, resulting in violent vibration. If the support spring is damaged, it will also cause uneven force on the material and cause abnormal flow.
3. After the screen is damaged after using it for a long time, the material cannot flow normally on the screen surface.
4. The feeding of the vibrating screen is uneven, and the material cannot be subjected to uniform excitation force, so it will also lead to an abnormal flow of the material on the screen surface of the linear vibrating screen.
5. The loosening of the vibration source causes the inclination to change. Tighten and adjust in time.
6. The fastening bolts of the screen frame and screen plate are loose, causing resonance and causing the screen machine to work abnormally.
7. Screen box cracked.
8. The eccentric mass is displaced.
Solution
1. Adjust the horizontal level of the linear vibrating screen to keep the screen box level.
2. The support spring with certain toughness is used as the support of the linear vibrating screen. Replace damaged spring structures and broken screens.
3. Keep feeding evenly and continuously. Feeding should not be too much or too little to cause an unbalanced load on the screen box.
4. Tighten loose screws and bolts. Repair welding and reinforcement at the fracture, and lubricate the vibration source in time.
5. Adjust the eccentric block to ensure that the front-end amplitude and vibration frequency are consistent. The back-end amplitude and vibration frequency are consistent, which can solve the problem of deviation.
6. Do the daily maintenance of the equipment. Find problems and solve them in time, reduce the failure rate and improve the efficiency of equipment use.