New type-double wheel sand washing machine
Wheel sand washing machine is a new type equipment in LZZG, on the basis of sand washer. This machine has adopted advanced technology to meet needs of customers. And it widely used in coal and minging field, with the characteristics of integrating washing, screen, dewatering and recycling.The whole machine has a reasonable structure and small area, which greatly reduces the investment cost for customers in the sand washing link. Now, in order to make you know about this machine,LZZG will introduce the working priciples of this machine.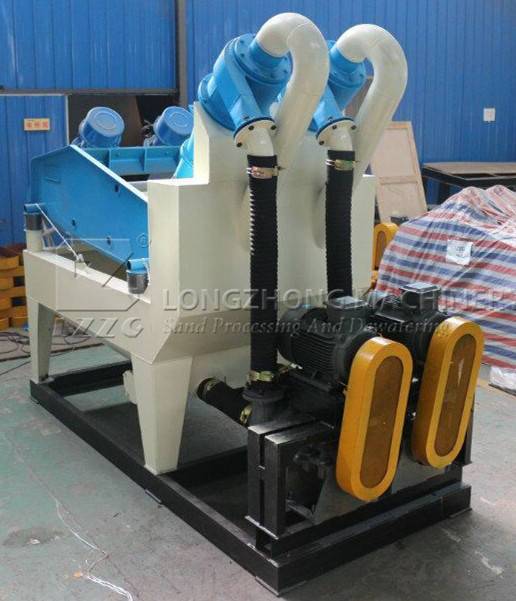 1. The raw material is poured into the hopper through the loader. There is an adjustable gate below the hopper. After the gate is released, the raw material falls into the conveyor belt below the hopper.
2. Through the feeding conveyor, the raw material is evenly conveyed to the trommel.
3. tumbler screen with water, while the outer layer wrapped wire mesh, raw materials into the trommel, through the tumbler to the sand in the pebbles, shells and mud blocks and other non-conforming particles selected.
4. After passing through the trommel filter, the qualified material is directly slid into the washing wheel, and large particles of sand or mud are piled through the waste rod.
5. washing sand wheel work, the motor through the V-belt, reducer, reduce the speed of the gear drive after the slow rotation of the impeller, sand into the washing tank, driven by the impeller under the rolling, and grinding each other, remove the impurities covering the surface of sand, At the same time, the water vapor layer covering the sand particles is destroyed so as to facilitate dehydration; at the same time, water is added to form a powerful water flow, foreign matter with a small amount of impurities and foreign matter is taken away in time, and discharged from the sewage outlet. The clean gravel is carried away by the blades, and finally the gravel is poured from the rotating impeller into the discharge chute to complete the gravel cleaning.
6. After the cleaning is completed, the qualified materials are transported to the high position and sanded by sand bars.