Basic introduction of desander cyclone
Desander cyclone is a common separation and classification equipment with high efficiency which utilizes centrifugal force field to separate particles.
It has been widely applied in sand processing plant, ferrous and non-ferrous metal mines, non-metal mines, coal mines, electric power environmental protection, chemicals, oilfields, construction and other fields.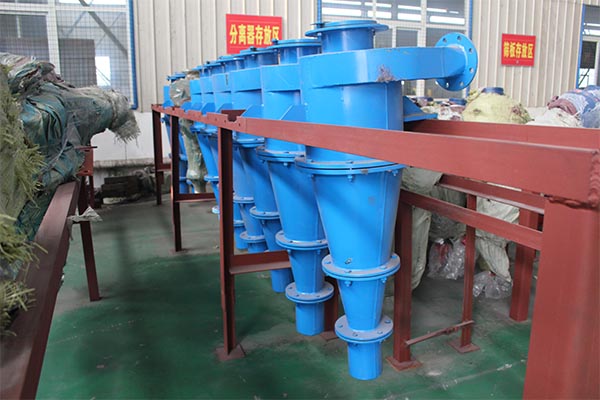 The basic principle of desander cyclone is to separate a liquid-solid two-phase or multi-phase mixture having a certain density difference by centrifugal force. The mixture is feed into cyclone at a certain pressure to generate a high-speed rotating flow field in the cylindrical cavity. The dense component in mixture moves downward in the axial direction under the action of swirling flow field, and moves radially outward, moves downward along the wall of the cone section. Then is discharged from the bottom opening, thus forming the external vortex flow field; The component with low density moves toward the central axis, and forms an upwardly moving inner vortex at the center of the axis, and then is discharged from the overflow port, thus achieving the purpose of two-phase separation.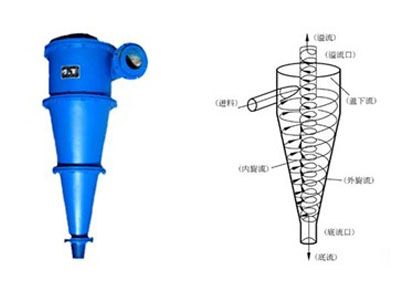 Features of desander cyclone:
1. Simple structure, light and flexible, no moving parts;
2. Low equipment cost, easy disassembly, maintenance, less the cost of infrastructure
3. Large handling capacity, Can handle the small particle size to about 10μm
4. High efficient classification.
5. Slurry in the cyclone retention volume and time very small, easy to deal with when the machine stops.
6. Long service life, large disposal capability, small land covering, no driving power consumption.
7. High efficient grading & de-sliming equipment of fine -particle material.