LZ550 Fine Sand Recycling Equipmentin Anhui
Manufactured sand produced by sand factory all supplied to concrete mixing station, use local rich pebble resource to produce manufactured sand. As is known to us, a series of processing including raw material extraction, crushing, sieving, stockpiling all exist different degrees of loss. The loss of fine sand and mountain flour, not only pollute the environment, but cause the fineness modulus of sand is low, which lead to serious separation of concrete, influence the quality of concrete.
Therefore, LZZG equipped with fine sand recycling equipment to help customers to solve the problem of fine sand loss.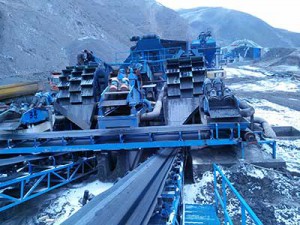 In this sand factory, extracted by the fine sand recycling equipment, most of 0.16mm fine sand is extracted, settling pond seems to become pure. Customer said, his friend's settling pond need to be cleaned every 5 days, and need to take lots of cost, what's more, there are much fine sand losses. After putting into use LZZG brand fine sand recycling equipment, avoid this kind of problems successfully.
Thus it can be seen LZZG brand fine sand recycling equipment is a kind of environmental protection equipment, it can not only help customers to redeem loss, but also improve the concrete quality and reduce the environment protection.