Economical sand production line
Sand production line is mainly composed of vibrating feeder, crushers, sand making machine, vibrating screen, belt conveyors, electronic control system and other equipment. The output is generally 30-500 tons per hour.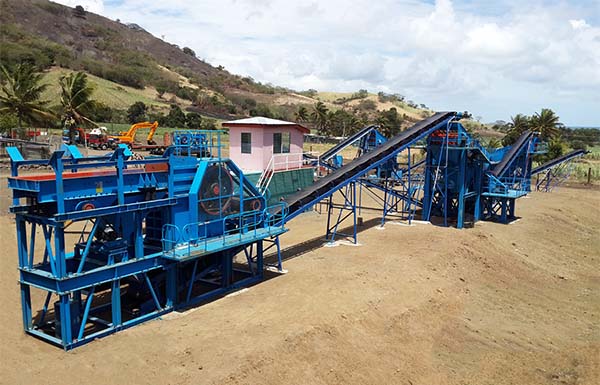 It is applied for aggregate and artificial sand making with compressive strength of not more than 300MPa, such as pebble, limestone, granite, basalt, steel slag, coal gangues and feldspar.And it is suitable for mining, building materials, highway, urban construction and other industries. According to the users' different process of requirements, various types of equipment to meet the user's different process requirements.
Performance of sand prouction line
1. The sand production line is highly automated, almost no manual operation except for the equipment's start-stop and daily maintenance.
2. The equipment configuration of sand production line is mainly determined by customer's specifications and use for stone. It provides comprehensive services before sale, during and after sale. Configures the process according to customer's production site, striving to be the most reasonable and most reliable and economic production line.
3. In the design of crushing and screening equipment in sand production line, due to the reasonable matching of crushing equipment at all levels and the rigorous spatial cross layout, it has the characteristics of small floor space and high investment economic benefit. At the same time, it is equipped with an advanced electronic control operating system to ensure smooth flow of the entire process, reliable operation, high efficiency and energy saving.
4. Solved the problem that finished sand is not qualified and equipment broken by rock stones in conventional equipment and process. The production efficiency is high, the output is large, the income is high, the finished sand has uniform particle size, the grain shape is good, and the national material standard is met.
Characteristics of finished product
1. Good shape of finished sand particles;
2. The finished sand grade is reasonable, and the fineness modulus can adjustable;
3. The finished sand indicators meet the national standards and are high quality concrete aggregates;
4. Low cost and good benefits for processing sand.