Aggregate washing equipment
Aggregate washing equipment is one kind of sand washing machine, which is mainly stir sand and stone materials  by the screw device in the equipment, and mix the mud, impurities in sand aggregate with water to complete the cleaning process. The aggregate washing machine is suitable for washing, grading and impurity removal in metallurgy, building materials, hydropower and other industries, especially for sand for construction and gravel for road construction.
The rotor of aggregate washing equipment adopts a central structure, and the spiral blade is mounted on the central shaft, and is connected to the central shaft by the reducer for work. It is an apparatus for mechanical classification by the principle that the specific gravity of the solid particles is different and the speed of sedimentation in the liquid is different. Mud water, impurities are discharged from the nozzle on the equipment, and the sand and gravel material is gradually screened under the action of the screw device, and discharged from the discharge port at the top, thereby achieving the cleaning and screening effect of the sand and gravel material. The low power consumption, good sealing structure, fully enclosed transmission device, adjustable jaw plate of aggregate washing machines ensure the  high washing degree, high efficiency, durability, good cleaning and dehydration effect, and stable stability of fine grain products.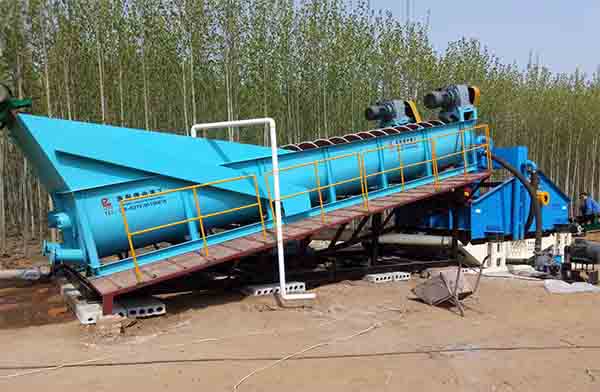 Aggregate washing equipment features:
1. Simple structure and stable operation.
2. The bearings are separated from the water and materials to avoid premature damage caused by contamination and rust.
3. Suitable for a wide range of work environments.
4. The material to be washed has less loss and the cleaning efficiency is high, which can fully meet the requirements of high-grade materials.
5. Long service life, almost no wearing parts.
6. Almost no maintenance required, which can greatly reduce costs.