Ultra sand plant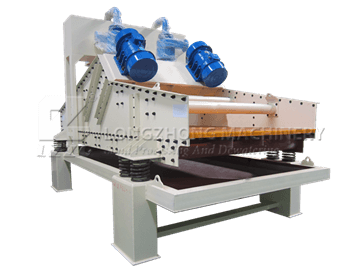 Introduction
In last three years, we successfully make Ultra sand plant  as our LZZG brand, improve core technical, select new processing methods and absorb different sites working situation, we supply Ultra sand plant which also called as de-watering type sand recycling system.
Working principle
Ultra sand plant , we still choose polyurethane screen as its main screening part, check its structure, we add recycling part on TS dewatering screen;sand after sand washer is fed onto polyurethane screen for dewatering waste sand water through steel chute or rubber pipe in water tank and extracted by slurry pump into high pressure sediment separator, fine sand 0.16-3mm is sprayed onto polyurethane screen also for de-watering, the waste water is back to return box and flowing out.
Features
1.Sand quality is higher, lower moisture content
2.Recycled fine size 0.16-3mm sand, lower mud content
3.Compact structure and install easily
4.Sand water content can be reduced to 10-15%.
Tech specifications
Model
Slurry pump
Whirl cone
Polyurethane screen
Capacity (m³/h)
Weight (t)
Power(kw)
Material
Diameter (mm)
Size (m)
Square meter
Power (kw)
LZ10-25
7.5-11
Cr26
250
1*2
2
2*1.5
30-80
2.25
LZ10-30
11-15
Cr26
300
1*2
2
2*1.5
40-100
2.7
LZ12-55
15-22
Cr26
2*250
1.25*2.5
3.1
2*2.2
100-200
3.75
LZ12-65
18.5-30
Cr26
2*300
1.25*2.5
3.1
2*2.2
120-250
4.25
LZ15-65
18.5-30
Cr26
2*300
1.5*3
4.5
2*3
150-275
5.15
LZ15-75
37-55
Cr26
2*350
1.5*3
4.5
2*3
180-350
5.65