Fine sand recycling machine and artificial sand of the process.
2017-10-17
Artificial sand making process:
First, use a Vibrating Feeder to evenly distribute the ore material to crushing equipment.
Jaw Crusher can crush ore for the initial process. Jaw Crusher only has broken function and has not shaping function, so broken ore can not be directly used.
Secondly, using a Belt Conveyor to transport mineral materials that will be transported to Sand Production Machine.
The Vibrating Screen divides the sand after crushing the sand into different sizes, and the larger sand is conveyed to the Sand Production Machine with the Belt Conveyor for further crushing.
Finally, using Sand Washing Machine to clean sand. After Circular Vibrating Screen and Sand Washing Machine, the sand can be used for road construction.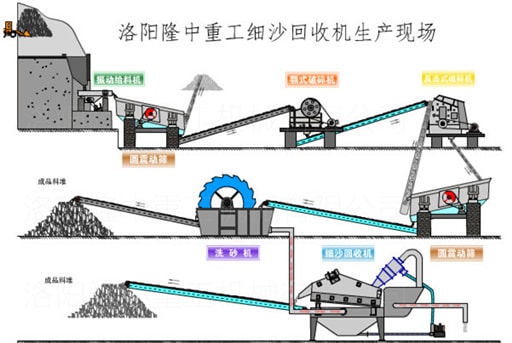 More than the above, need to use the equipment: Vibration Feeder, Jaw Crusher, Sand Making Machine, Sand Washing Machine, Belt Conveyor, Circular Vibrating Screen and other equipment.