Solution Of High Mud Content In Raw Ore Of Gold Mine
Flotation is one of the commonly used beneficiation methods in gold concentrators. But in the process of gold flotation, some gold ore raw ore has a large mud content, which affects the flotation effect. Therefore, how to reduce the effect of slime on gold flotation has become a widely concerned problem.
To solve these problems, it is necessary to adopt corresponding solutions according to different gold ore properties to mitigate and prevent the harmful effects of ore slime. Strengthening fine flotation means adopting suitable process flow or using targeted flotation agents. Specific measures are as follows.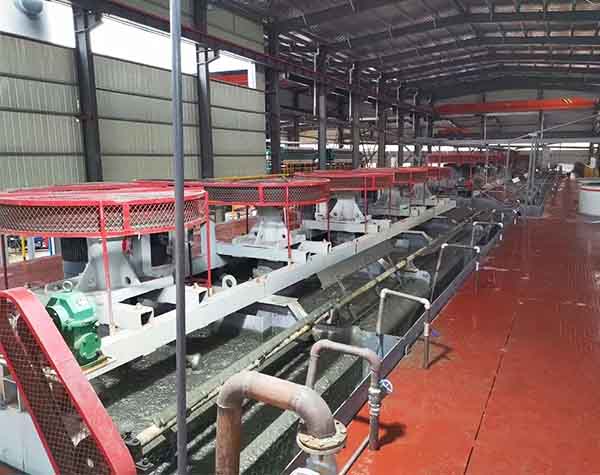 1. Ore washing
Ore washing is an important method to eliminate the influence of slime on flotation. After a stage of crushing, add a vibrating screen to wash ore, and the ore is washed to remove the mud part. The screened slime is processed by spiral classifier, and the sand is returned to the silo or directly ground. The graded overflow can be flotation with the grinding products or flotation alone. The graded overflow with very low gold grade can be discharged directly with the tailings.
2. Part of the slime can be separated by hydrocyclone before flotation
If the gold content of the slime is high, the slime can be treated by flotation alone. Long flotation time should be adopted for fine mud flotation alone, keeping high concentration of slurry (60%-70% pulp concentration) and low concentration of flotation (generally below 20%). At the same time, the dosage of collector was increased, and the aeration was kept large and the bubbles were small to weaken the rising slurry flow. For some easy to float and gold content of the slime can also be removed by adding a small amount of foaming agent before flotation.
3. Add mud dispersant
Sodium silicate, sodium carbonate, sodium hexametaphosphate and other dispersants can be added to prevent non-selective agglomeration of fine mud, so as to fully disperse the mud and reduce the flocculation cover of the mud. In this process, subsection dosing method can be considered to reduce the harmful effect of a large amount of adsorption agents.
4. Increase the appearance particle size of particulate minerals
Physical or chemical methods are used to increase the apparent particle size of particulate minerals to improve the flotation rate and selectivity of minerals to be sorted.
When the flotation dressing method is used to treat the raw ore with high slime content, if the phenomenon of crusher blockage, gold recovery rate decline and flotation index deterioration occurs, it can be considered whether it is caused by the high slime content of the raw ore.