Improvement Of Limestone Waste Rock Production Line
The limestone production line of Indonesian customers mainly uses the waste rock stripped from limestone mines to produce stones after crushing and screening. A large amount of 0 ~ 5mm material is produced in the production process, and the proportion is about 36%. But the grain type is not good, the mud content is high, the concrete mixing station can not be used, so it can only be sold as waste.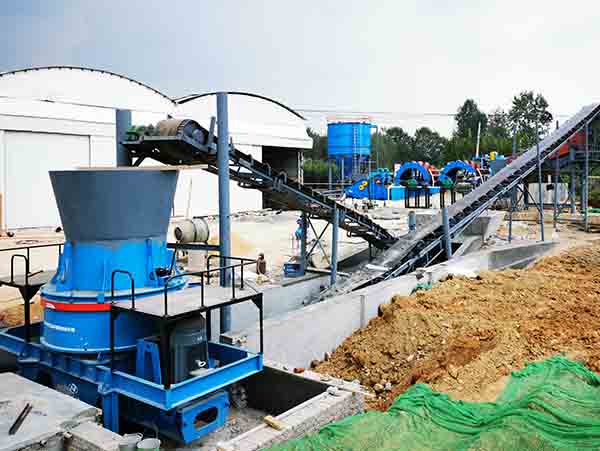 1. Original limestone production process
The limestone waste rock is fed by a heavy plate feeder and then passed through a hammer crusher (first stage crushing) to a vibrating screen (two layers of screens are 25mm and 30mm respectively). Three kinds of products are produced: 10mm ~ 30mm stone, < 25mm and > 30mm stone. > 30mm of stone is returned to the impact crusher (secondary crushing) after crushing and then returned to the vibrating screen. < 25mm stone into another vibrating screen (two layers of screen are respectively 5m, 10mm) after the formation of 10mm ~ 20mm stone, 5mm ~ 10mm stone and 0 ~ 5mm sand.
Existing problems:
a. Low yield: the proportion of 0 ~ 5mm is about 36%.
b. The added value of the product is low: the crushed 0 ~ 5mm grain type is not good, and the mud content is about 15%. Concrete mixing station can not be used, the production line can only be used as a low cost waste processing.
2. The improved production line
A vibrating screen is added to the sand conveyor belt of the original limestone waste rock production line, so that the vibrating screen can screen out 3mm ~ 5mm of the original waste material. As semi-finished products, the material on the screen is transported to the roller crushing sand making machine by belt conveyor to produce machine-made sand products.
3. The improved effect
A. The production capacity of the modified machine-made sand production line is 50t/h, which realizes the production of machine-made sand products with lower cost waste materials, effectively improves the added value of products, and realizes the purpose of comprehensive utilization of waste rock resources. The vibrating screen and sand making machine are equipped with dust collection equipment, and the environmental protection level of the modified mechanical sand production line conforms to the corresponding environmental protection standards.
B. The project was built within the existing storage shed, eliminating the need for a new site and using the existing shed to meet environmental requirements while saving investment.