Graphite Flotation Process
Graphite ore flotation beneficiation and purification can make the grade of graphite reach 80-90% or even about 95%. The graphite flotation process mainly includes three parts: ore preparation, slurry mixing, and grinding and flotation.
The flotation method of graphite ore is mainly based on the difference in wettability of the surface of graphite and gangue minerals. Due to the good hydrophobicity of graphite, it will adhere to and float on the air bubbles, while the hydrophilic gangue will remain in the water to achieve flotation separation.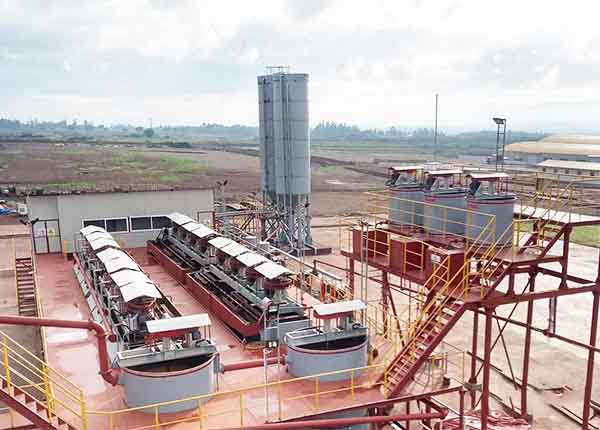 1. Graphite mine preparation process
Crushing
It mainly relies on crushing equipment to complete mechanical crushing by means of extrusion, impact, splitting, and grinding to achieve the initial dissociation of graphite and gangue minerals. Jaw crushers are often used for coarse crushing of large-sized minerals. Hammer crusher and impact crusher are used for secondary crushing of minerals, and cone crusher and roller crusher are used for fine crushing of minerals. The hardness of graphite ore is generally medium hard or medium hard and soft. The crushing process is relatively simple, often using a three-stage open-circuit, two-stage open-circuit, or one-stage open-circuit process.
Grinding
Grinding is to further realize the dissociation of graphite monomers or conjoined bodies. In order to select large flake graphite as soon as possible, a multi-stage grinding process is often used in the grinding stage, and the separation is completed with flotation. At this stage, ball mills, rod mills, and stirring mills are commonly used as grinding equipment.
Grading
After grinding, the qualified products enter the classifier for separation. Graphite classification commonly used cyclone and spiral classifiers as classification equipment.
2. Graphite mixing process
Slurry mixing is an important process in the mineral purification and sorting process, which can prepare for subsequent sorting operations. Generally, by adjusting the slurry concentration, the agent is dispersed and fully contacted with graphite minerals.
Slurry mixing in the graphite ore dressing plant can be divided into conventional sizing, aeration sizing, and grading sizing, and then mechanical stirring, jet mixing, and static mixing are performed to complete the sizing. Graphite slurry mixing is mainly completed in equipment such as mixing barrels, pulp pre-processors, and pulp preparers.
3. Graphite flotation process
The conventional graphite flotation process is generally a closed-circuit process of multi-stage flotation-sequential return or centralized return of medium ore. The overflow ball mill is commonly used for fine grinding operations, the SF type flotation machine and the JJF type flotation machine are used for rough and sweeping operations, and the XJK type flotation machine is used for the selection operation. When the grinding operation of each section is completed, it will enter the flotation stage. For example, after a one-stage grinding operation (the ore particle size reaches about 40% of -200 mesh), one-stage flotation is carried out, followed by multi-stage grinding and stripping, and multiple sorting. The return of medium ore is a process in which the medium ore produced after flotation is returned to the previous operation in sequence or in a centralized manner to improve the flotation efficiency of graphite ore.