High Pressure Suspension Mill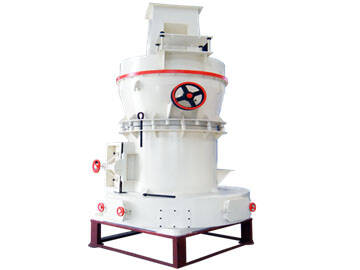 Brief introduction
High pressure suspension mill is widely used to crush all kinds of minerals in mining, metallurgy, chemical industry and building, such as iron ore, pulverized stone, blast furnace slag, limestone, calcite, pottery and quartz, whose hardness is under 9.3grade and moisture content under 6%. The final product's fineness is adjustable from 80 to 425 meshes. By adding special devices, high pressure suspension mill can produce powder whose fineness can be up to 30meshes to 80 meshes.
Working Principles
In the main frame of high pressure suspension mill, there is a high pressure spring about 1000-1500kg around the roller hanger. When working, the roller is rotating around the main shaft and rolling against the ring closely, with the force of high pressure spring and centrifugal force, whose rolling force is 2 times higher than R mill, so the capacity has improved a lot.
After the materials are sent into the grinding room, the shovel is scooping them and putting them to the room between the roller and the ring, and the grinded powder is brought to powder separator by circulating air from the blower, with the qualified powder brought to the powder concentrator as final products and coarse ones to the grinding room. Circulation air repeats the above process, and the extra air is purified by bag filter and then discharged. When the roller and the ring are wore, adjusting the length of high pressure to keep the stable grinding pressure so as to ensure the capacity and fineness.
Advantages and features
1. Its capacity is 10%-20% higher than the other mills under the same force, and its grinding force has improved by 800-1200kg.
2. The product size is wide; the coarse ones can be 30 meshes, the average ones 425 meshes, and the fine ones 1000 meshes.
3. Dust removal completely meets the national dust discharge standard.
4. The powder separator is easily adjustable, and the grinding room is multiply sealed, and is in good quality.
Model
YGM75
YGM85
YGM95
YGM100
YGM130
YGM160
Roller piece
3
3
4
4
5
6
Roller diameter(R×H)
210×150
270×140
310×170
310×170
410×210
440×270
Ring diameter(R×H)
650×150
830×140
950×170
1000×170
1280×210
1600×270
 Max.feeding size(mm)
<15
<20
<25
<25
<30
<35
Fineness of product(mm)
0.613-0.033
0.613-0.033
0.613-0.033
0.613-0.033
0.613-0.033
0.613-0.033
Capacity(t/h)
1-3
1.2-4.6
2.1-5.6
2.5-8
3/12
5/22
Speed of main mill(r/min)
160
150
130
130
103
82
Power(kw)
Main frame
18.5
22
30
37
75
132
Powderconcentrator
2.2
4
5.5
5.5
7.5
11
Air blower
15
22
30
37
75
132
Weight(t)
3.8
5.2
12.8
13.6
26.1
38
Overall dimension(mm)
4.1×3.5×5.1
5.3×4.1×5.2
7.1×5.9×7.9
7.3×7.2×8.3
8.8×7.5×9.7
12.55×5.7×8.36