CS Series Cone Crusher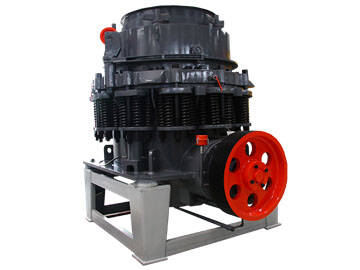 Brief introduction
Comparing with other kinds of crushers, CS Series spring cone crusher is quite excellent in hard material crushing and the final product has good sharp.
Features
1.High yields and high grade final products.
2.With grease seal and upstage sealing element imported from Japan, provide sturdy guarantee for long-playing stable operation of machine.
3.Overload protective system can effectively ensure safety of crusher.
4.Easy to control discharging size by using different crushing cavity and adjusting device.
Model
Movable Cone Diameter mm (inch)
Chamber Style
Opening Side
Closed Side
  Discharging Opening (mm)
REV (r/min)
Power (kw)
Capacity (t/h)
Machine Size (mm)
Max.Feeding (mm)
CSB75
900 (3′)
medium
83
102
9-22
580
75
45-91
2821×1880 ×2164
coarse
159
175
13-38
59-163
CSD75
914 (3′)
fine
13
41
3-13
580
75
27-90
2821×1880 ×2410
medium
33
60
3-16
27-100
coarse
51
76
6-19
65-140
CSB160
1295(4 1/4′)
fine
109
137
13-31
485
185
109-181
2800×2342 ×2668
medium
188
210
16-31
132-253
coarse
216
241
19-51
172-349
CSD160
1295(4 1/4′)
fine
29
64
3-16
485
160
36-163
2800×2342 ×2668
medium
54
89
6-16
82-163
coarse
70
105
10-25
109-227
CSB240
1650(5 1/2′)
fine
188
209
16-38
485
240
181-327
3911×2870 ×3771
medium
213
241
22-51
258-417
coarse
241
268
25-64
299-635
CSD240
1650(5 1/2′)
fine
35
70
5-13
485
240
90-209
3917×2870 ×3771
medium
54
89
6-19
136-281
coarse
98
133
10-25
190-336
CSB400
2134(7′)
fine
253
278
19-38
435
400
381-726
5200×4300 ×4700
medium
303
334
25-51
608-998
coarse
334
369
31-64
870-1400
CSD400
2134(7′)
fine
51
105
5-16
435
400
190-408
5200×4300 ×4700
medium
95
133
10-19
354-508
coarse
127
178
13-25
454-599