Several Functions Of LZZG Sand Screening Machine
Dewatering screen is a kind of vibrating screen, which is used to remove moisture from materials. It is widely used in environmental protection industries, such as sewage treatment, metallurgy, building materials, chemical industry, refractories, cement, ceramics, grain, mining, coal, electric power and other industries.
Linear dewatering screen, also known as drainage screen, there are two vibration exciters running in the opposite direction of the centrifugal force to make the material move in a straight line on the screen box. And because of the negative angle of the linear dewatering screen, the material will drain the moisture on the way to climb the slope and run forward. It is used to deal with the initial dehydration or rough dehydration of large materials.
LZ series dewatering screen have several functions: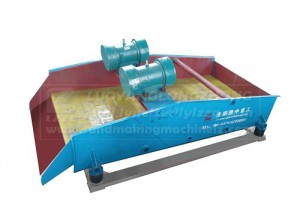 High Capacities Per Foot Width
Consistent, Drip-Free Product
Reduces Water Losses To Product
Better Stockpile Management
Quiet & Low Power Consumption
Driven By Vibratory Motors
Convenient Maintenance