Potash feldspar dewatering screen
Potash feldspar dewatering screen is used for the classification and dehydration process of potassium feldspar. Classification part can be equipped with appropriate aperture screen panels according to the requirements of concentrator. Oversize products return to ball mill, and the undersize for iron removing. Dehydration process refers to the last step of K-feldspar after irom remove treatment. The final water content is less than 15% after dehydration process from 80% water content of potash feldspar powder after iron removal, which can meet the requirements of dry heap and transportation.
Why dewatering screen?
In the production of non-metallic ore potassium feldspar, generally the spiral separator is used for slag water separation after ball mill. However, after the slag water separation by spiral separator, the moisture content of finished products is too high to be dry pile. These high water content concentrates are not only difficult to transport, but also increase power consumption during the refining process to make ore cannot be fully utilized.
After investigation and experiment, dewatering screen was used to replace spiral separator. The final water content of potassium feldspar was less than 15% after dehydration and separation through dehydration screen, which fully achieves the dry heap effect. In addition, the fine sand lost in original spiral separator can be recycled to increase recovery rate of finished products. The economic benefit brought by dewatering sieve far exceeded the original spiral separator. It is the first choice for potassium feldspar beneficiation.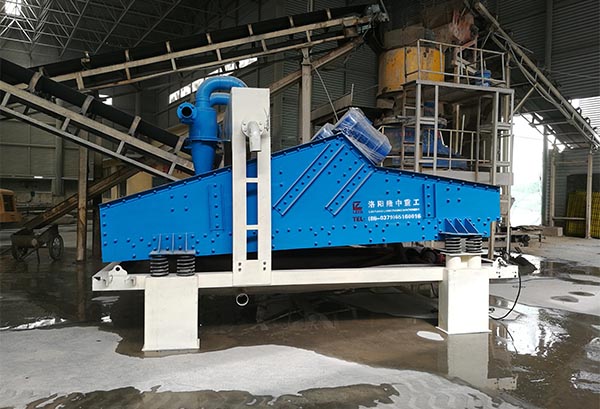 Features
1. Screen panel is made of ultra-high molecular polyurethane lining steel, which is resistant to impact, corrosion and wear, no pollutants. And has a long service life.
2. Screen box is made of stainless steel, and the reinforcing plate is added on the side. The thickness of the whole machine is different, and the weight of the model is different.
3. High-strength bolts are used at the link between vibration motor and feed box to make it more tightly connected. Spring at the bottom is rubber spring, which greatly reduces noise.
4. The amplitude of vibrator can be adjusted for better dewatering.
5. Retaining fine particles and backlog dehydration by relying on the upper filter layer.
The emergence of mining dewatering screens conforms to the development of the times, and technological innovations will bring more benefits. It will not only improve environmental , but also save the cost and improve the efficiency of work.