LZ sand extraction machine for sale
The LZ series sand extraction machine successfully developed by LZZG can reasonably decompose sand water mixture and realize the recycling purpose of fine sand. Up to 90% fine particulate material in total discharge can be recycled, which has unparalleled technical and economic benefits. It is widely used in sand gravel processing system, hydropower station, glass raw material processing system, coal mining plant, coarse coal slurry recovery, mud purification for effectively solving the problem of fines lossing.
Sand extraction machines are mainly to solve the problem of unreasonable sand gradation caused by the serious loss of fine sand below 3 mm. Sand from the gradation can be divided into coarse sand, medium sand, fine sand and ultra-fine sand, the washed sand is an essential material in cement mortar. In actual use, no additional water consumption is needed, and more than 90% of washed fine sand or minerals can be extracted from the originally discharged waste water. Then directly mixed into the finished product pile or stored separately as a high-grade material.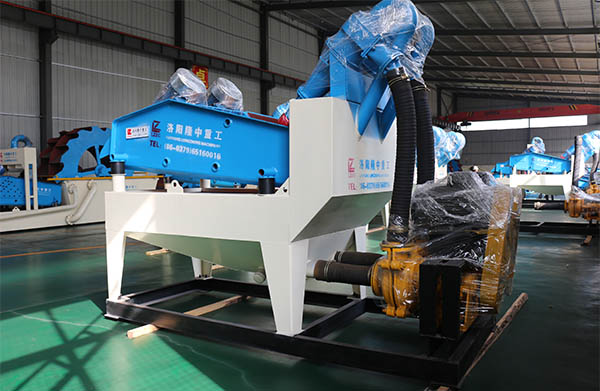 Composition of sand extraction machine
Fine sand extraction machine consists of motor, slurry pump, cyclone, linear vibrating dewatering screen, cleaning tank and return tank.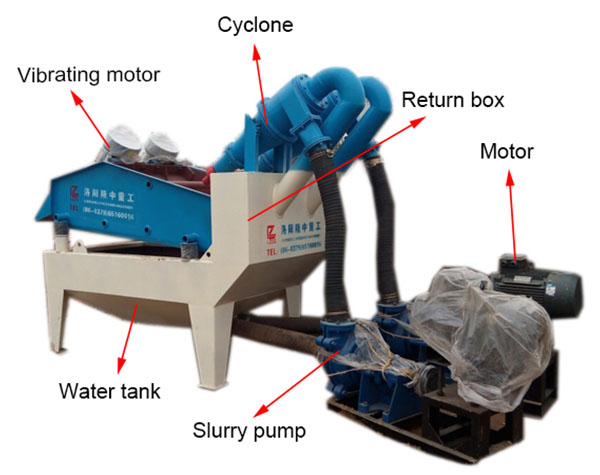 Sand extraction machine working process
Sand water mixture is transported to cyclone by slurry pump, then the centrifugally graded fine sand is fed onto dewatering screen through the grit nozzle. In the process of dehydration by dewatering screen, the fine sand is effectively separated from water, then the finished sand discharged from the outlet to form stockpile, water, mud are returned through return box. When the liquid level in cleaning tank is too high, it is discharged through the discharge port.
Adjusting the fineness modulus can be achieved by changing the pump speed, changing the mortar concentration, adjusting the overflow water, replacing the sand nozzle. Thereby completing the functions of washing, dehydrating and fines recycling.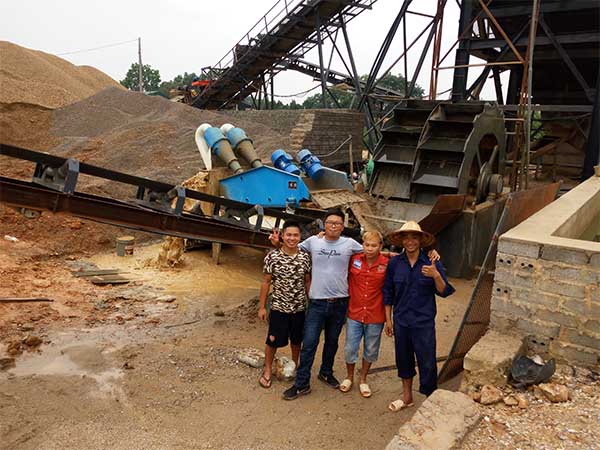 Sand extraction machine performance
1. In the traditional wet sand process, the loss of fine sand can hardly be controlled. Fine sand recovery system can effectively reduce the loss of fine sand and control it within 5-10%, which is well solved the problem of high fineness modulus and low stone powder content.
2. The dewatering screen adopts polyurethane screen, which has longer life than other types of screens and is not easy to block holes.
3. The cyclone is lined with polyurethane, which improves the service life of the whole device, and can smoothly complete the work of slurry concentration and liquid clarification.
Economic benefit analysis of fine sand extraction machine
The content of fine sand in the normal wet sand production line wastewater should be about 15%-20%. Fine sand recovery efficiency is 90%.
Assume that the sand and gravel plant production capacity is 100 tons / hour (wet screening), calculated for 260 days a year, after the fine sand recovery system treatment, the fine sand can be extracted in one year: 100 tons / hour x 15% x 83% / hour x 8 hours x 260 days = 25,896 tons.
The fine sand is calculated at 25 yuan/ton: 25,896 tons x 25 yuan/ton = 647,400 yuan.
In addition to equipment operation and maintenance costs of about 100,000 yuan / year, an increase of 550,000 a year.
And the fine sand is recycled, which reduces the workload of the sedimentation tank and reduces the cleaning cost of sedimentation tank.