LZZG sand washing plant in Brunei
According to our installation engineers' feedback, our customer's construction waste crushing plant is built in a large waste disposal sites, which indicated that the construction concrete waste disposal project is only part of the waste disposal project.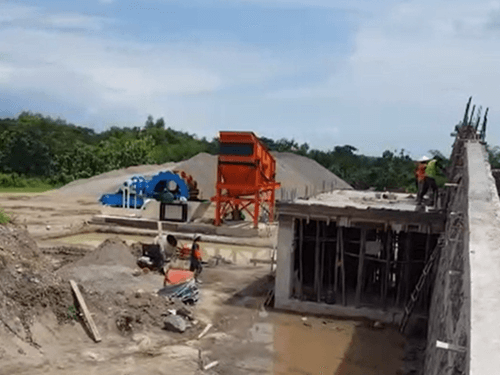 The construction concrete waste crushing plant provided by Shanghai Longzhong to the trading company (Singapore Aggregates Engineering) who sold it to a local company (presumably Butir Quarry) and government. The trading company mainly is engaged in the sales and the overall design of the crushing, grinding, sorting projects and has successful business cases in the local, the ASEAN region, the United States, the United Kingdom and other overseas regions. But temporarily we are unable to get the information about local government laws and regulations on the construction of waste disposal, project planning, supply of construction waste, the intended use of finished products etc.
Process of the plant
1. Pretreatment: Using the hydraulic hammer to crush the big stone into smaller one, and arrange the worker to cut through the long reinforcement to prevent damaging the belt conveyor.
2. Crusher procession: Material after the pretreatment will be sent to the jaw crusher, and setting the discharge gate at 100mm, and use the impact crusher as the secondary crusher to handle the revert material with the discharging gate at 50mm. The actual use shows that the jaw crusher can handle the raw concrete with the reinforcing steel bar easily, and can cut and separate the steel bars. At the same time, the fine crushing affection is very good. The jaw crusher and impact crusher use one screen together with the final sizes 0-5mm, 5-50mm. The customer gives high evaluation about the stable crushing procession. Actual photos of the production line, construction waste materials with rebar, magnet iron-separator and scrap steel bar heap are shown in Figure