High frequency dewatering screens for sale
Dewatering and sieving are important parts of high frequency dewatering screens and the main working mode of dewatering screener. Screening and dehydration is a process in which water and particles are detached when the material passes through the screen surface in a thin layer. In principle, screening and dehydration is a filtration process carried out in a gravity field or a centrifugal force field.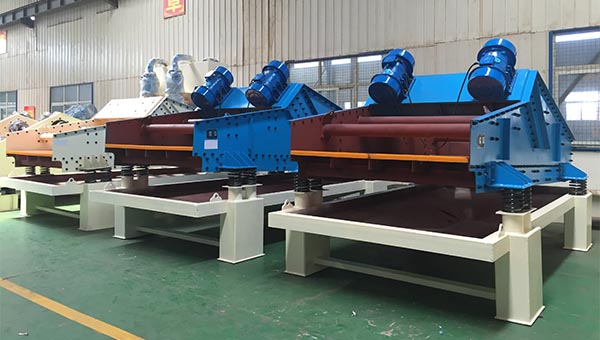 LZZG dewatering vibrating screens are designed in accordance with the principle of equal thickness screening. For the different materials on working site, the excitation direction angle and screen surface can be adjusted adaptively to achieve the best combination of throughput and screening efficiency. The dewatering screen consists of a screen frame, polyurethane screen panels, high frequency vibration motor, vibration-damping rubber spring, water tank and the brackets. The side frame of is made of one piece of high-quality steel, and the side plate is connected with the beam and base of vibration exciter by high-strength bolts or ring groove rivets. So the structure is firm and reliable. The series of dewatering screens all have damping devices and secondary damping springs.
How does high frequency dewatering screen work?
The linear dewatering screen adopts double-electrode self-synchronization technology, a universal fast eccentricity and an adjustable amplitude vibrator. Two unconnected vibrators are driven by the tape coupling shaft to perform synchronous reverse operation. The centrifugal forces generated by the two sets of eccentric mass are superimposed along the component of the vibration direction, and reverse centrifugally canceled, thereby forming a single excitation vibration along the vibration direction to make the screen box reciprocating linear motion.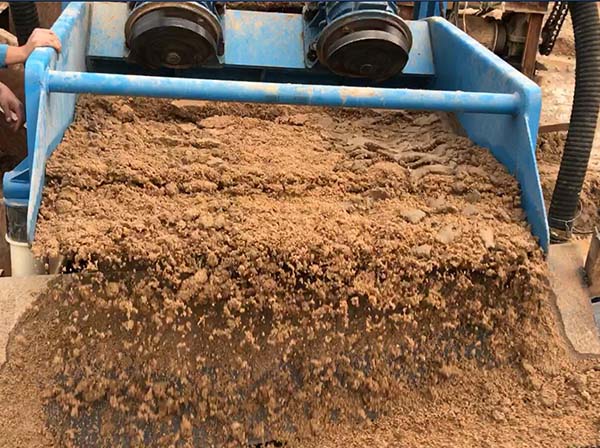 Advantages
1. The dewatering screen designs of LZZG is that the screen plate is at an angle of 45° to the main board. Two balanced vibrating motors are mounted horizontally, one at the other end. The unbalanced gravity generated by the rotation makes the screen work more stable.
2. Adopting double vibration motor excitation, and the structure is firm and compact.
It has got rid of the shortcomings of the traditional eccentric vibrator, such as large structure, oil leakage, large wear, large noise, and inconvenient maintenance.
3. The side plate of sand dewatering machine is adhered with the wear-resistant rubber of the middle and heavy industry to ensure that the dewatering screen is free from deformation and cracking, and the iron material pollution is reduced.
4. The mining dewatering screen of LZZG utilizes the embedded wear-resistant urethane composite screen of Longzhong Heavy Industry, which has a life expectancy of 3-10 times higher than that of traditional metal screens, avoiding the metal frame of the screen and The direct collision of ore reduces noise and reduces the heavyness of the metal screen.
5. The damping device of sand dewatering equipment adopts rubber damping column of LZZG, which is more suitable for wet conditions, and has the advantages of long-lasting vibration reduction.