The characteristics of sand making machine
VSI sand making machine is also named VSI series high efficiency vertical shaft impact crusher, which is the result of introduction of German advanced technology and latest design domestic. It is the world's advanced high performance crushing equipment. Sand making machine uses a unique rotor structure design, wear-resistant material process, crushing speed optimization and hydraulic design, which is a perfect combination of professional fine crushing technology and mechanical manufacturing.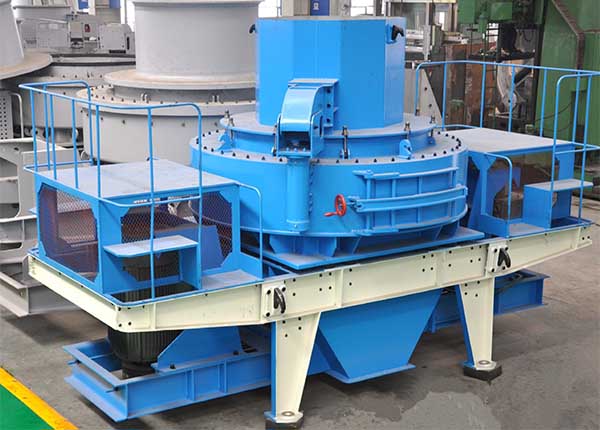 Characteristics
1. Large processing capacity, high production
60-520t/h, the production improved 30% and is stable compare traditional equipment with same power.
2. Excellent product shape
The product is cubic, with good grain shape and reasonable gradation. The fineness modulus is adjustable, which is especially suitable for artificial sand making and stone shaping. It has been proved that sand making machine is better than other traditional equipment for sand making and shaping.
3. Long service life of spare parts, low costs
Most design of crushing cavity materials in impact angle, so the wear is less with spare parts. The cost is reduce 30% compare with traditional crushing equipment, so directly reduce the using costs of equipment.
4. Hydraulic equipment, easy to maintainence
Equipped with hydraulic drive cover device, which make is easier to check and replace the accessories in crushing cavity. This short the closing time and reduce the time and labor.
5. Thin oil lubrication
The thin oil lubrication station, the dual oil pump complements the oil supply, and automatically stops when there is no oil flow or oil pressure; the oil cooling and heating device ensures that the bearing lubrication is always in the best condition. Therefore, the problem of bearing heat generation and the like is completely solved, the spindle bearing is kept at a constant temperature, and the maintenance cycle and the service life are prolonged.
6. Easy installation and operation
Light weight, various installation types, and can be install moverably. It is easy to installation, replace, maintainence and operation. The VSI sand making equipment just needed to be adjust a little once ensuring the specific use, so that it can show the excellent performance.
7. Multiple purposes
The unique feeding crushing structure, can be easily realization "stone dozen stone" and "stone iron" conversion, can be broken and plastic. This sloves the problem of multiple purposes.