Five Comparisons of Spiral Classifier and Hydrocyclone
Spiral classifiers and hydrocyclones are two types of classification equipment commonly used in mineral processing plants. The purpose of the classification operation is to effectively separate coarse and fine particles. As well as avoiding over-grinding of fine-grained minerals, while returning coarse-grained minerals to the mill for regrinding. The effect of its operation will directly affect the production capacity of the grinding equipment, the effect of the finished product, and the grade and recovery rate of the concentrate.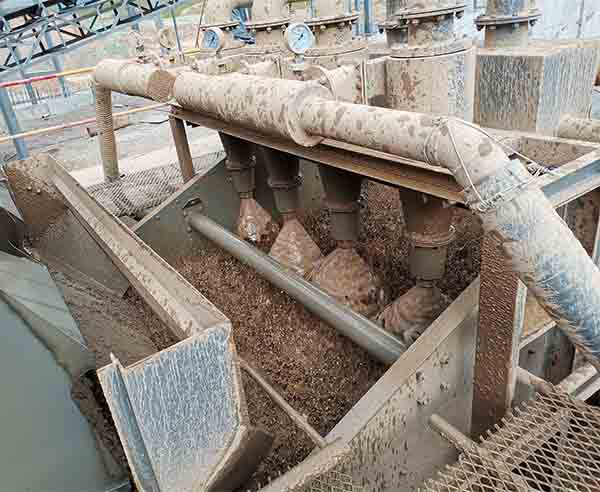 1. Different applicable material particle size
Spiral classifiers include high weir type and submerged type. The high weir type spiral classifier is usually used for coarse particle classification, and its classification particle size is generally greater than 0.15mm. The submerged spiral classifier is suitable for fine particle classification, and the classification particle size is generally less than 0.15mm. Compared with the spiral classifier, the hydrocyclone has a better classification effect when dealing with finer-grained materials (0.3-0.01mm).
2. Different classification efficiency
Generally, the classification efficiency and product accuracy of hydrocyclones are lower than that of spiral classifiers. Mainly because the hydrocyclone will change the final discharge position of the material when the pressure is not up to standard. But when the grading particle size is very fine (such as 0.037mm), the grading efficiency of the hydrocyclone is significantly higher than that of other grading equipment.
3. Different footprint
The footprint of a hydrocyclone is significantly smaller than that of a spiral classifier. Usually, the footprint of a hydrocyclone is only 1/30-1/50 of that of a spiral classifier.
4. Different operating requirements
The spiral classifier has a simple structure, stable operation and easy operation. The ore feeding pressure, concentration, and particle size of the hydrocyclone will affect its classification index, so the accuracy of the operation is required to be high.
5. Different investment costs
The price of hydrocyclone is lower than that of a spiral classifier. In terms of equipment maintenance, the worn parts of hydro cyclones are mainly linings and overflow pipes. The maintenance of the spiral classifier is mainly to replace the spiral lining and other daily maintenance.