Features of TS series dewatering screen
High frequency dewatering screen is a dewatering and screening device capable of environmentally utilizing waste materials, which has a large processing capacity and a good dewatering effect. It provides an efficient economic return for the recovery of slime and tailings operations.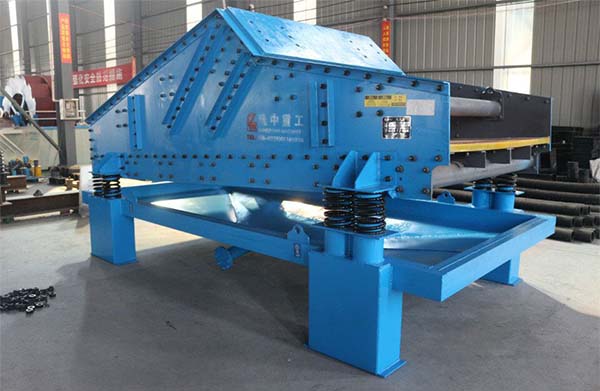 For coal washing plants, dewatering screens can be used to replaced sand washing machines. Because sand washing machine consumes a lot of water, it will wash away the slime with water. But dewatering screen will not. Dewatering screen is similar to fine sand recycling machine, some customers purchase multiple dewatering screens to use together, which greatly improves production quality and efficiency. Small coal washing plants do not need to purchase dryers because the cost is too high, but the dewatring screen can be used to separate the slime and water. So what are the characteristics of dewatering screen?
1. The base spring is adopt rubber spring, which is used for shock absorption. So that the amplitude is not large, the vibration is slow, and materials can be cleaned off.
2. The side plate has a reinforcing plate; bottom is equipped with support and marked with a horizontal bar; discharge port is supported by a triangular steel plate, and the plate is thick.
3. The vibration motor is fixed with high-strength bolts.
4. The sieve plate is fixed at a high density, and the sieve plate is provided with reinforcing ribs.
In addition, the mesh holes can be customized, and the dewatering effect is good.
5. After the welder has welded, weld hole will not be strictly formed, and bottom is supported by channel steel.
6. Before delivery, the staff will debug it, whether the vibration motor is normal, and whether the vibration exciter is running well, to ensure the quality of products for customers.
7. The added value of dewatering screen: For products with low mud content, dewatering screen can be used directly, sand washing machine is not needed, which saves the cost and achieves the same effect.