8 sets TS1845 dewatering screen deliver to Malaysia
Dewatering screen equipped with the mechanical characteristics of high frequency and high vibration intensity, in order to meet the needs of dewatering and classification materials and slime recovery, and to achieve the purpose of large processing capacity, good dewatering effect and strong adaptability.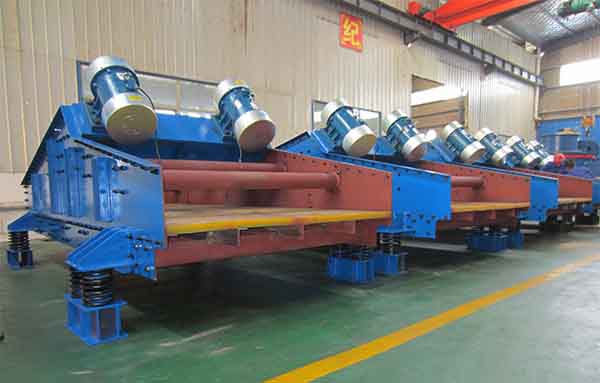 Dewatering screen is one kind of vibrating screen, which differs from other vibrating screens are:
1. Different function
Dewatering screens are used to dehydrate and separate the water from solids of water-containing material to achieve the purpose of dry heap or direct transportation. Generally, the moisture content of finished products is required to be as small as possible; The general vibrating screen is to classify materials with different particle sizes, including dry and wet sieves. The proportion of material on the screen and under the sieve depends on the material itself.
2. Different screen form
The screen panel of dewatering screen is mostly uphill, which is good for dry row; general vibrating screen is equipped with horizontal or downward screen to facilitate discharge.
Dewatering screens are generally used in conjunction with sand washing machines in wet sand production plants. In the processing of stone materials, due to the intense collision and the soil content of stone itself, lots of stone powder and mud powder mixed into mechanism sand, and will seriously affect the quality of sand. In order to remove the powder in mechanism sand, sand washing machines are arranged in the mechanism sand production line. However, after the cleaning by sand washing machine, the moisture content of material is large. At this time, dewatering, de-intermediation and de-sludge are required through the dewatering sieve, and the mud content is reduced to less than 0.7%, thereby achieving the standard of construction sand.