Automatic Dosing Device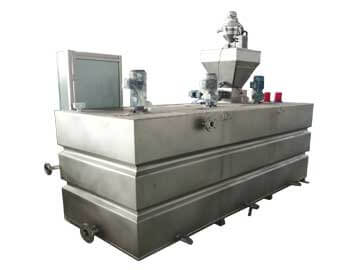 Brief Introduction:
LZ automatic dosing device is widely used in power plant, chemical industry, water plant, mine aggregate processing tail water and other water treatment systems that need to add purification equipment and flocculant, which can provide continuous and stable chemicals for water treatment process.
Working Principle:
Automatic dosing device is mainly composed of liquid tank, agitator (optional), metering pump, control cabinet, pipeline, buffer, pressure gauge, Y filter, level gauge, level sensor (optional), PH meter (optional), corrosion online monitor (optional), support, etc.
Each part of the dosing device is installed on a rack, which is compact and reasonable to form an independent dosing unit, greatly reducing the workload of chemical design and field installation and reducing the floor area.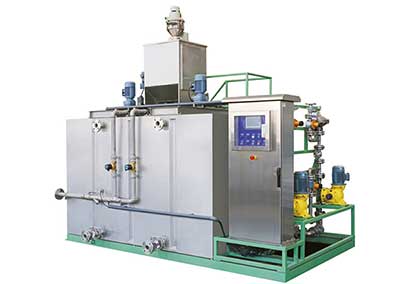 Application:
1. Add flocculant, disinfectant, acid and alkali solution in water treatment.
2. Add scale inhibitor and water quality stabilizer in cooling water and circulating water.
3. Add acid and lye to other solutions in chemical and printing industry.
Parts
Unit
Value
Trough
Effective Volume
m³
1×3
Length
mm
3250
Width
mm
1405
Effective Height
mm
2200
Motor
Model
Y225M-6
Power
kw
30
Speed
r/min
980
Productivity
Pulp Density
60~70%