Aggregate dewatering screen
2018-11-22
Aggregate dewatering screen is the dedicated equipment for producing high quality sand used in highways, high-speed railways, hydropower station, etc. The sand and stone granule produced by it with excellent shape, reasonable gradation and high compressive strength, which fully guarantees the quality of project construction and is favored by the majority of users.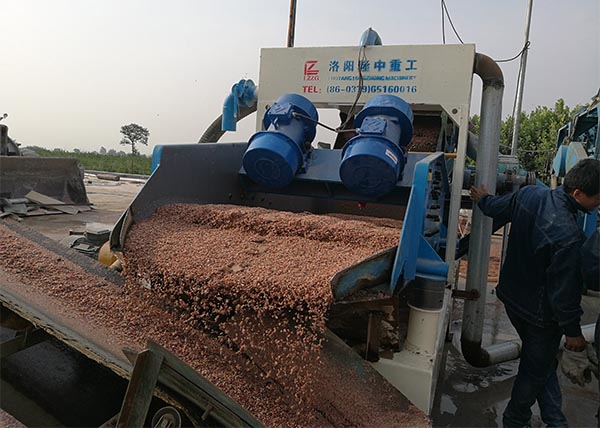 Coarse aggregate: also known as stone, refers to aggregates with particle size greater than 4.75 mm, mainly with pebbles and artificial gravel. Pebble is a nearly circular or elliptical rock naturally formed by natural weathering or water flow; gravel is mainly made of mechanical crushing and sieving. Depending on the different uses, raw materials can be various types of rocks such as limestone, bluestone, river pebble, granite, basalt.
Fine aggregate: also known as sand, refers to aggregates with a particle size of less than 4.75 mm, mainly including natural sand and artificial sand. Natural sand is river sand, lake sand, mountain sand and desalinated sea sand; artificial sand is the broked stone that meet particle requirement by crushing machine.
Aggregate dewatering screen is mainly used for washing and dehydration in aggregate washing plant. After the crushing and sand-making process, materials are screened accordingly, so that the granule gradation of sand and stone is more consistent with the final production requirements. The qualified part in particle size into sand washer to wash and remove impurities and fed onto dewatering screen for dewatering, then the final products are transfered to from. Big particles are broken again. In addition, the muddy water used in this process can be reused after purifying by thickener. So that the entire production process of aggregate is completed.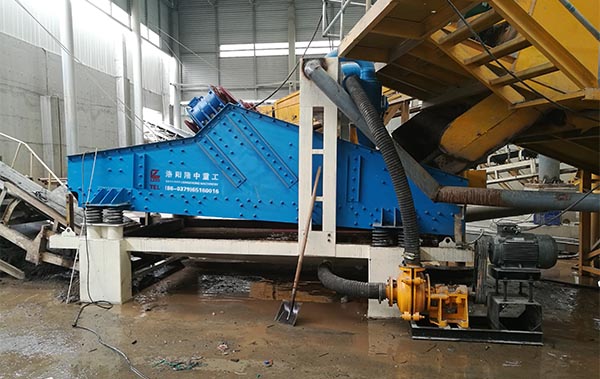 The specific equipment configuration should fully consider the material hardness, abrasiveness, soil content, humidity and other material properties, and combine the specific requirements of production, production site, market demand, etc. And make full use of the terrain height difference in the specific process layout to reduce the corresponding investment and production and operation costs. It is necessary to pay attention to the strict control of the water content of sand and gravel to avoid the sales due to the excessive water content. Under the current trend of vigorously recommending green environmental protection, we must also pay attention to the dust removal measures of the production line to meet the environmental protection standards and promote the sustainable development of the aggregate production line.