Ts dewatering screen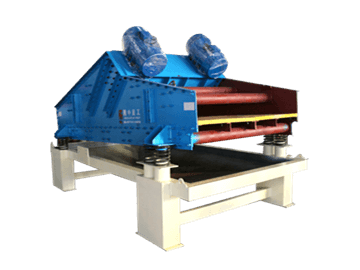 Brief introduction
Base on lower water content sand is well needed and sold in market, we do research and manufacture a series new type dewatering screen. TS dewatering screen is mainly used in mining, construction for coarse or fine sand dehydrate processing.With the advantages of simple structure and easy maintenance, it becomes a hot seller in our market.
Working principle
Dewatering screen adopts dual-motor self-synchronization technology. The motors coordinate with universal eccentric and adjustable amplitude vibrator. When the two motors start to work, the vibrators move reversely at the same time. The centrifugal forces is generated by the eccentric blocks will superpose themselves and form a single direction vibration. The high frequency vibration drives the screen move back and forth in line repeatedly. So the sand can be dehydrated and filtered.
Features
1. Advanced structure, light weight, high dehydrating ratio with new type vibrating motors.
2. Simple structure, easy maintenance.
3. Cross beam and screen body connect with high strength bolts, no welding and easy to remove and maintenance.
4. Polyurethane screen (PU) high screening ratio, big capacity,long service life and no blocking.
5. Widely used, less replacement parts.
Specifications
| | | | | | | |
| --- | --- | --- | --- | --- | --- | --- |
| Model | Screen area (m²) | Power (kw) | Capacity (m³/h) | Feed size (mm) | Weight (t) | Overall dimension (L*W*H)(mm) |
| TS0820 | 1.5 | 2*0.75 | 5-10 | ≤10 | 0.8 | 2250*1140*1133 |
| TS1020 | 2 | 2*1.1 | 20-30 | ≤10 | 1.6 | 2250*1340*1185 |
| TS1225 | 3 | 2*2.2 | 50-80 | ≤10 | 2.1 | 2820*1590*1362 |
| TS1530 | 4.5 | 2*3 | 100-120 | ≤10 | 2.5 | 3320*1900*1351 |
| TS1840 | 7.2 | 2*4 | 150-200 | ≤10 | 3.5 | 4200*2441*1980 |
| TS1845 | 8.1 | 2*4 | 150-200 | ≤10 | 4.5 | 4800*2441*1980 |
| TS2445 | 10.8 | 2*7.5 | 200-250 | ≤10 | 6 | 4800*3100*2230 |