What is River sand?
2016-12-29
Material profile
River sand is natural stone in the natural state, through the water force for a long time repeated collision, friction generated, its composition is more complex, the surface has a certain smoothness, impurity content of non-metallic ore. The color was gray and yellow, with fine sand, coarse sand, coarse sand, gravel layer, gravel layer. River sand particles smooth, relatively clean, wide source.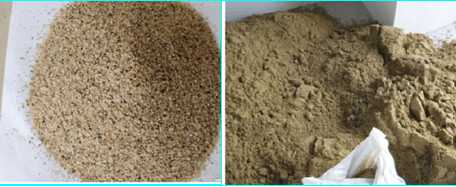 Particle size
River sand 4-8 mesh
River sand 8-16 mesh
River sand 10-20 mesh
River sand 20-40 mesh
River sand 40-70 mesh
River sand 70-100 mesh
Application
After sieving, the river sand can be widely used in all kinds of dry mortar; such as insulation mortar, adhesive mortar and plaster mortar is washed with water, drying and grading of river sand as the main aggregate. Strength similar to mortar made of quartz sand. So river sand in general construction, decoration has an irreplaceable role!
Sand making equipment
Sand production line is mainly composed of vibrating feeder, jaw crusher, impact crusher, vibrating screen and belt conveyor.
Sand production line
(1) Large stone by silo by vibrating feeder evenly sent to the jaw crusher are crushed, crushed stone to the crusher for further crushing by belt conveyor;
(2) After crushing stones by belt conveyor sent to the sieve screening, screening gives several different specifications of stones, meet the requirements of the stones size by finished belt conveyor to finished material pile;
(3) The stone which does not meet the granularity requirement is sent back to the impact crusher by the belt conveyor to be broken again to form a closed circuit multiple cycle.
150 T/H sand production line equipment
Name
Model
Power(kw)
Weight(t)
quantity(set)
Vibrating
1000×3600
1.5kw×2
4.1
1
Jaw crusher
600×900
75
17
1
Crushing machine
1400×1400
160
25
1
Vibrating screen
1800×4800
15
5.6
1
Sand washing machine
3200
11
8.87
1